---
---
In Flower this Week
A weekly news sheet prepared by a Gardens' volunteer.
Numbers in square brackets [ ] refer to garden bed Sections. Plants in flower are in bold type.
1 February 2008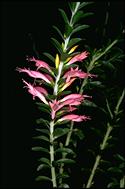 Eremophila calorhabdos- click for larger image
This walk follows the Main Path commencing at the far end of the café building. A selection of flowers will be mentioned. Walking along this path to a section of emu bushes where Eremophila mackinlayi subsp. spathulata [Section 302] is seen as a low growing shrub with lateral branches of grey foliage and large bugle shaped lavender coloured flowers. Nearby Eremophila calorhabdos [Section 302] is an upright shrub bright with magenta coloured flowers edging the branches. The blaze of yellow and burgundy flowers in the distance is that of kangaroo paws, Anigozanthos flavidus [Section 7].
The section of mostly yellow daisies includes Chrysocephalum semiamplexicaule [Section 303] which have clusters of small orange and yellow button size flowers on the long branches. Banksia 'Birthday Candles' [Section 30] is a dwarf spreading shrub now bearing its juvenile green flower spikes while, behind the 'Proteaceae' notice board, Banksia pilostylis [Section 25] is a medium shrub with dull green foliage and yet stubby yellow upright cylindrical flower spikes. Across the road and behind the seat a native Wandering Jew, Commelina cyanea [Section 24 and elsewhere] has lovely blue three- petalled flowers over this prostrate herb. Close by a patch of Geebungs, Persoonia acerosa [Section 24] shrubs of medium size have bright green foliage and prolific with tiny tubular yellow flowers. Behind the double seat Grevillea tripartita subsp. macrostylis [Section 26] has sharp holly-like leaves and splendid red and yellow flowers with long red styles.
Across the road a group of Saw banksias, Banksia serrata [Section 112] have upright green-grey flower spikes mixing with the dark saw-toothed leaves. Following the winding path through the Flora of the Sydney Region, Platylobium formosum [Section 191h] has bright yellow pea-shaped flowers over the medium shrub, with a small shrub, Crowea exalata [Section 191h] clad with pink star flowers in front. A corner of an intersection is crowded with Platysace lanceolata [Section 191e] covered in profusion with heads of tiny white flowers. Melaleuca thymifolia [Section 191d] is dense with small clusters of feathery mauve flowers. Flannel flower, Actinotus helianthi [Section 191l] with its soft grey foliage and white velvety cream many petalled flowers, blends with the yellow flowers of Persoonia acerosa [Section 191l]. Christmas Bells, Blandfordia grandiflora [Section 191u] may still be revealing its red and yellow bell shaped flowers on upright stems.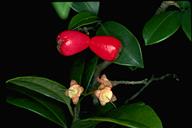 Syzygium australe- click for larger image
The path crosses the Eucalyptus Lawn to the Rock Garden where the yellow straw daisies of Xerochrysum sp. [Section 15R] are bright. In front of the waterfall the tall perennial, Lythrum salicaria [Section 15Q] displays its spikes of pink flowers. Eremophila latrobei [Section 15V] has carmine coloured bugle shaped flowers for decoration. Eucryphia wilkiei [Section 109] is attractive with cream saucer shaped open flowers over the open shrub while, edging the road beside the Rain Forest, Backhousia citriodora [Section 78] is prolific with perfumed feathery white flowers in clusters mainly at the top of the tall shrub.
Entering the coolness of the Rain Forest, Conjevoi Lily, Alocasia macrorrhizos [Section 124] has such large fleshy leaves on fleshy thick stems surrounding the upright greenish-cream flower. Later, in front of two seats, a Brush Cherry Syzygium australe [Section 147] is a tree of medium size which displays its white fluffy flowers, many above the boardwalk. And so down the ramp where other flowers are waiting to be admired.
So many flowers to enjoy … Barbara Daly.
---
Updated 27 August, 2008 , webmaster, ANBG (anbg-info@anbg.gov.au)
---