---
---
In Flower this Week
A weekly news sheet prepared by a Gardens' volunteer.
Numbers in square brackets [] refer to garden bed Sections. Plants in flower are in bold type.
25 January 2008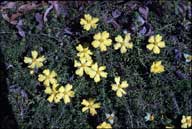 Hibbertia vestita - click for larger image
What better place to celebrate Australia Day than to walk in these wonderful Australian Gardens.
Such beauty, such colour has these red bell shaped flowers of Rhododendron lochiae a potted shrub outside the Visitors Information Centre door. Other gorgeous flowers can be seen along this winding walk finishing on the far side of the Sydney Basin and the Hot House. Edging Banks Walk the prostrate plant of Hibbertia vestita [Section 174] is bright with open yellow flowers. Scaevola sp. [Section 210] with long stems with blue fan shaped flowers blend well with the grey foliage of an emu bush, Eremophila glabra [Section 210]. Kangaroo Paws are colourful and on the lower level Eucalyptus ficifolia [Section 174] is splendid with large clusters of orange-red fluffy flower clusters scattered over this small dense tree.
Follow the Main Path past the café building branching off where there is a group of Grass trees, Xanthorrhoea glauca [Section 8]. Along this path the colours of the Kangaroo Paws Anigozanthos flavidus [Sections 8,7] with glowing yellow flowers mixing with burgundy flowers is so colourful, their nectar a favourite of the small honeyeaters. Returning to the Main Path, to the path between Sections 30 and 27. View Chittick, Lambertia inermis [Section 27], a dense shrub with well arranged orange-red tube flowers. This path runs into a field of Helichrysum rutidolepis [Section 29], dense groundcover with upright stems of small yellow button-like flowers, accompanied by much taller stems with straw flowers, Xerochrysum sp. [Section 29] of various colours. Opposite are Swamp banksias, Banksia robur [Section 28] still with few juvenile deep green flower spikes, others changing to yellow to chocolate as they mature all with large leathery leaves.
Turning left which leads to the Sydney Basin selecting the small winding path on the far side of the Gully. It is a cool magical place with an abundance of ferns including the large Dicksonia antarctica [Sections 191 k,j,d,b] Plants include Crowea exalata [Section 191k] with pink star-like flowers over this hedge-type shrub, the pink toned trunk of Angophora costata [Section 191f] after its tan coloured bark has fallen, Persoonia pinifolia [Section 191f] with dark trunk and yellow strands of flowers falling from its pendent branches. 'White Christmas' [Section 191j] with soft white calyces which resemble flowers, on a tall dense shrub. Across the branching path, the NSW Christmas Bush, Ceretapetalum gummiferum [Section 191f] is a smaller shrub here, with its reddened calyces which followed its white flowers. Epacris longiflora [Section 191f] is an entanglement of branches bearing its slim red tube flowers with white mouth.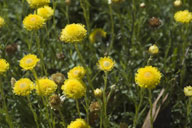 Helichrysum rutidolepis - click for larger image
At the intersection turn right and then left with a road edged with a mix of red Christmas bushes and yellow wattles to view the contents of the hot house. The steamy hot environment is a home to many plants including about six orchids in flower including Phalaenopsis No.11 with mottled dusky red and cream flowers, close to the door in a hanging pot. Other plants include the Pitcher Plant, Nepenthes mirabilis a terrestrial insectivorous plant with tips modified into very large green pitchers with reddish mouth. Cat's Whiskers, Orthosiphon aristatus is a loosely branched plant with loose terminal spikes of white flowers with long curving stamens, falling over the wall. To return, follow the lower path around the gully reaching the Main Path.
Long maybe, but always another flower to admire …… Barbara Daly
---
Updated 27 August, 2008 , webmaster, ANBG (anbg-info@anbg.gov.au)
---