---
---
In Flower this Week
A weekly news sheet prepared by a Gardens' volunteer.
Numbers in square brackets [] refer to garden bed Sections. Plants in flower are in bold type.
18 January 2008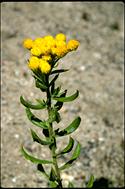 Chrysocephalum semiamplexicaule - click for larger image
The picturesque flowers of Rhododendron lochiae with salmon coloured pendent trumpet-like flowers seen at the Visitors Information Centre door are so magnificent. But the purpose of this walk is to view the flowers in the Rock Garden. The walk starts at the base of the waterfall and continues in a clockwise direction.
Isotoma anethifolia [Section15a,d] is a small herb clad with white star-like flowers. Edging the stairs, the dense groundcover Hibbertia pedunculata [Section 15d] is covered with open yellow flowers. Grevillea 'Poorinda Royal Mantle' [Section 15d] is a large spreading groundcover with many red toothbrush-like flowers, seen falling down the rockface. Chrysocephalum semiamplexicaule [Section 15d] has tiny bright yellow and orange flower heads on upright stems. Nearby Crinum angustifolium [Section 15d and elsewhere] has large striking white star flower-heads with long pink stamens on long upright stems. Ptilotus obovatus 'Cobtus' [Section 15d] is a small upright plant tipped with grey-pink woolly ovoid flower heads amid the grey-green foliage.
On this colourful bank Solanum sturtianum [Section 15g] is a small upright grey-green leafy plant with yellow-centred deep purple flowers. Isotoma axillaris [Section 15g] has blue star flowers while Verticordia mitchelliana [Section 15g] is a small shrub covered with showy, vivid red flowers. Halgania cyanea [Section 15g], is a dwarf shrub covered with deep blue flowers. Concealed below a rockface is a small trailing plant, Goodenia macmillanii [Section 15g] with attractive pink flowers.
Ascending the stairs, Grevillea 'Poorinda Royal Mantle' [Section 15h] is a grand old shrub with terminal pale red terminal flower spikes on branches over the path. Beside it a Geebung, Persoonia linearis x pinifolia [Section 15h] has soft pine-like foliage and terminal yellow flower sprays which dangle from its spreading branches. Continuing along this top path a group of kangaroo paw Anigozanthos flavidus [Section 15h] has upright stems of burnt red flowers. Scaevola albida var. albida [Section 15h] is a low spreading shrub with white fan-shaped flowers while close by, Dampiera sylvestris [Section 15h] is a suckering plant with blue flowers on short upright stems. At the end of this section Prostanthera aspalathoides [Section 15h] is a small shrub bright with cherry red tubular flowers.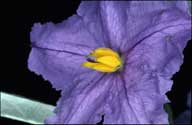 Solanum sturtianum - click for larger image
Take the path between the Grass trees, Xanthorrhoea johnsonii [Section 15j,14]. A grouping of Senecio linearifolius var. dangarensis [Section 15r] are upright many branched shrubs tipped with yellow flower heads. Opposite, Stenocarpus angustifolius [Section 15p] is an upright, rounded shrub covered with a profusion of tiny curvaceous deep cream flowers in clusters. Labichea lanceolata [Section 15r] is a rounded shrub coloured with yellow flowers, each petal marked with a red spot.
At the base of the waterfall and further up the stream, Lythrum salicaria [Section 15q] has tall stems tipped with pink flowers. In the small garden there are two emu bushes: Eremophila christopheri [Section 15v] displays its mauve bugle shaped flowers while Eremophila latrobei [Section 15v] has cherry red flowers, its foliage being grey-green.
Regardless of high temperatures and water restrictions, these Rock Gardens are worth a visit … Barbara Daly.
---
Updated 27 August, 2008 , webmaster, ANBG (anbg-info@anbg.gov.au)
---