---
---
In Flower this Week
A weekly news sheet prepared by a Gardens' volunteer.
Numbers in square brackets [] refer to garden bed Sections. Plants in flower are in bold type.
21 December 2007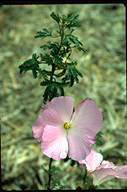 Alogyne huegelii - click for larger image
This week's walk is a short walk in the Tasmanian Garden and on the Banks Loop. We will see several shrubs with a Christmas theme. Turn right as you come out of the Visitors' Centre and start down the steps. On the right [Section 221] are several low shrubs of Eremophila racemosa with lipstick-pink flowers. Zieria verrucosa behind them is a tall shrub with bunches of white four-petalled small flowers. Near the bottom of the steps is Thelionema sp. with royal blue star flowers and grass-like leaves.
Continue across car park and down the steps on the pebble path. Immediately in front of you on the left of the path [Section 142] is Victorian Christmas Bush Prostanthera lasianthos, about 4 metres tall and with masses of white hooded flowers. Behind it are several New South Wales Christmas Bushes Ceratopetalum gummiferum, up to 7 metres tall and with many small cream flowers. When the petals fall, the sepals will turn red. On the right of the path [section 171] is a mass planting of tall Kangaroo Paws Anigozanthos sp. with red and green flowers, and on a little way and round the corner, a group of Fan Flowers Scaevola albida with light mauve flowers, covering an area of about five square metres. Turn left over the bridge. You will almost certainly see Water Dragons sunning themselves or swimming in the ponds. On the left just after the bridge [Section 142] is a tall narrow Leatherwood Eucryphia lucida 'Ballerina' with bright pink flowers. On the bank [Section 141] are a number of low Native Storksbill Pelargonium australe with pale pink geranium-like flowers and soft round leaves.
Turn left onto the bitumen road past the Franklin building. On the left just past the Crosbie Morrison Building [Section 230] is a shrub about one metre tall of Flowering Lignum Eremophila polyclada with large white flowers, several Flannel Flowers Actinotus helianthi with large white daisy-like flowers, a clump of self-sown Native Bluebell Wahlenbergia stricta with mauve open bells, and a large bush of Lilac Hibiscus Alyogyne huegelii with big mauve flowers.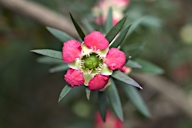 Leptospermum 'Rudolf'- click for larger image
Take the path between the two buildings, turn right onto the Main Path, and then immediately right. On the right [Section 310] is Cut-Leaf Daisy Brachyscome multifida with bright mauve flowers. Continue onto the Banks Loop. On the left [Section 143] is prostrate plant of Royal Robe Scaevola calliptera with big purple fan flowers, low shrubs of Blue Lechenaultia Lechenaultia biloba, with pale mauve flowers, Guinea Flower Hibbertia longifoliawith large yellow flowers, and Eremophila divaricata subsp. divaricata, with pinky purple tube flowers. Straight ahead, on the right of the path [Section 312] is a tall tea tree Leptospermum 'Rudolf' with red flowers.
Have a Merry Christmas. Betty Wood
---
Updated 24 January, 2008 , webmaster, ANBG (anbg-info@anbg.gov.au)
---