---
---
In Flower this Week
A weekly news sheet prepared by a Gardens' volunteer.
Numbers in square brackets [] refer to garden bed Sections. Plants in flower are in bold type.
14 December 2007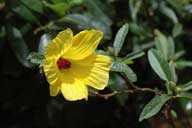 Hibiscus divaricatus - click for larger image
This walk may not be so easy to follow, for it branches off at places to reveal other worth- while flowers to enjoy. So, opposite the Visitors Information Centre doors, a vine Pandorea jasminoides [Section 212], pretty with large bugle shaped pink flowers, climbs about the wall. The Wedding Lily, Dietes robinsoniana [Section 210], on the other side of the doors, has large white iris-like flowers with large sword-like green leaves. Edging Banks Walk is a variety of colours of kangaroo paws, Anigozanthos sp. [Sections 174,210] but more about them later. Edging the path, Pelargonium rodneyanum [Section 174] displays its magenta-coloured flowers above its greenery.
Taking the road on the far side of the Rainforest Gully an orchid, Cymbidium suave [Section 125], has arching spikes of small dusky yellow flowers among the low branches edging the road. Across the road Melaleuca linariifolia 'Snowstorm' [Section124] has a mass of cream feathery flower balls. Branch into the Rainforest to the platform below where the red waratah-like flowers of the Dorrigo Waratah, Alloxylon pinnatum [Section 146] can be seen high over the gully. Before returning, continue to the stream level to view the Stream Lily, Helmholtzia glaberrima [Sections 144,145] with long flax-like leaves and spikes with plume-like heads of pale pink flowers.
Return to the road above where opposite, Grevillea 'Goldfever' [Section 124] is a low spreading shrub bearing stumpy toothbrush-like lemon flowers. Edging the Rainforest are numerous Native Elderberry, Cuttsia viburnea [Sections 125,147]. These are large shrubs, quite densely covered with tiny cream perfumed flower clusters. Hibiscus plants seen edging this path include Hibiscus divaricatus [Sections 114,104] with bright yellow flowers, another with white flowers with a flash of deep pink, while Hibiscus splendens [Section 104] has many buds which may soon explode into cherry red flowers.
Across the Main Path a Rock Orchid, Dendrobium speciosum [Section 104] with tough leathery leaves and still producing a spike of yellow flowers, clings to the rocks. Nearby is an area clad with groundcover violets, Viola hederacea [Section 104] dense with lovely mauve and white flowers. Opposite is the colourful Silky Oak, Grevillea robusta [Section 78], a tall tree with large gold toothbrush-like flower spikes, a favourite of the birds.
The colourful view of kangaroo paws in this garden includes Anigozanthos 'Bush Haze' [Section 17] with yellow flowers, Anigozanthos 'Bush Ruby' with crimson flowers, Anigozanthos 'Bush Noon' with orange-yellow tones and Anigozanthos 'Bush Dawn' with its own shade of yellow flowers. … really colourful! Continuing uphill Banksia speciosa [Section 37] is a large shapely shrub with long narrow deeply indented leaves displaying its many large greenish-cream flower spikes … good to see!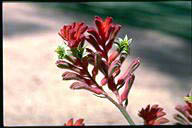 Anigozanthos 'Bush Noon'- click for larger image
To see another special site, a slope [not quite a hillside] of rhododendrons growing on the other side of the gully, take the earlier path crossing the bridge below, turn up a few steps to the road above and on the right side see the colour of Rhododendron lochiae x macgregoriae [Section 62] and others, all with their own shade of red trumpet-like flowers. On the return, the Blueberry Ash, Elaeocarpus reticulatus [Section 119] is a small dense tree clad in profusion with its small frilly pink bell-like flowers…such beauty!
Such great Australian plants … Barbara Daly.
---
Updated 25 January, 2008 , webmaster, ANBG (anbg-info@anbg.gov.au)
---