---
---
In Flower this Week
A weekly news sheet prepared by a Gardens' volunteer.
Numbers in square brackets [] refer to garden bed Sections. Plants in flower are in bold type.
7 December 2007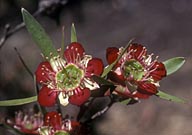 Leptospermum spectabile - click for larger image
Edging the stairs to the Visitors Centre is an emu-bush, Eremophila racemosa [Section 221], a small shrub with tubular flowers, its buds coloured yellow changing to orange then as they mature, changing to deep reddish-purple. This walk however, is centred on the S.A. and W.A. species of the Western Mallee where other emu-bushes can be seen. Firstly view the picturesque tea-tree, Leptospermum spectabile [Section 44] a medium shrub clad with green centred deep red open petalled flowers.
Then, edging the road up beside the old empty nursery, plants include Eucalyptus lansdowneana subsp. lansdowneana [Section 100b] which bears pink flower sprays while the Plunket mallee, Eucalyptus curtisii [Section 100b] has a profusion of white fluffy flowers enjoyed by many insects. Opposite, the road is edged with Chrysocephalum apiculatum [Section 34] with small yellow button flowers with green or grey foliage. Coppercups, Pileanthus limacis [Section 100b] scattered throughout this section, are small shrubs clad with catchy orange-red open flowers. Net Bush, Calothamnus chrysanthereus [Section 100b] is an open medium size shrub with small clusters of feathery red somewhat tubular flowers usually on old wood. Mirbelia dilatata [Section 100b] has deep mauve pea flowers shared with prickly leaves along its erect stems.
Following the boardwalk in an anticlockwise direction Eremophila christopheri [Section 100a] is an open shrub with mauve bugle shaped flowers edging the stems. A vine, Billardiera lehmanniana [Section100a] is a dense entanglement clad with small white flowers. In the background Melaleuca fulgens [Section 100b] can be seen with few lovely orange coloured bottlebrush-like flowers on the small shrub. At the base of a tree Scaevola calliptera [Section 100a] shows off its large fan shaped bright purple flowers on the small ground hugging plant. The small shrub with pendulous branches clad with tiny pink flowers is Baeckea astarteoides [Section 100b].
At the curve, Verticordia plumosa [Section 100b] has terminal clusters of frilly pink flowers while Verticordia chrysantha [Section 100b] is a dwarf shrub covered with yellow flowers. Eremophila oldfieldii subsp. angustifolia [Section 100c] has lost its flowers, replaced with its interesting pale green calyces.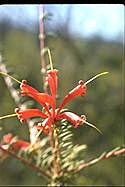 Lambertia ericifolia - click for larger image
A cluster of kangaroo paws, Anigozanthos 'Bush Glow' [Section 100a] is colorific with its 'paw' shaped deep red flowers atop long upright stems. Agrostocrinum scabrum [Section 100a] has blue star-like flowers on slender stems, surrounded by grass-like leaves. A larger background shrub, Callistachys lanceolata [Section 100c] is clad with fresh green leaves with a mix of bright yellow pea shaped flowers. Down in the valley Anigozanthos 'Bush Noon' [Section 100a] is bright with yellow 'paw' flowers. At the exit of the boardwalk Lambertia ericifolia [Section 100c] is a large shrub decorated with orange, well designed flowers.
Turning right, between the two bridges Eucalyptus leucoxylon subsp. petiolaris [Section 72] yet small with a willowy habit with attractive deep pink flowers… really pretty!
Another attractive part of these Gardens to enjoy … Barbara Daly.
---
Updated 25 January, 2008 , webmaster, ANBG (anbg-info@anbg.gov.au)
---