---
---
In Flower this Week
A weekly news sheet prepared by a Gardens' volunteer.
Numbers in square brackets [] refer to garden bed Sections. Plants in flower are in bold type.
30 November 2007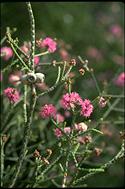 Regelia inops - click for larger image
This walk follows the Main Path starting at the far end of the café building. A selection of interestingly designed flowers of all colours can be seen but only because of space, few will be mentioned.
To start, walk below the arching branches of a large bottlebrush, Callistemon viminalis [Section 310] with long deeply grooved trunk and many deep red bottlebrush flowers. Regelia inops [Section 12] has small fluffy flower balls tipping the branches and Callistemon 'Aphrodite' [Sections 10, 11] shrubs of medium size have branches clad with green centred cherry pink open petalled flowers. Callistemon rugulosus var. laevifolius [Section 11] is an upright shrub with short deep red flower spikes while Callistemon chisholmii [Section 10], at the corner, is a larger plant with weeping branches holding small pink flower spikes. The garden of daisies contains Thelionema grande [Section 303] with lily like foliage and long stems of rich blue open petalled flowers and a backdrop of bright yellow button like flowers of Chrysocephalum apiculatum [Section 303]. Kangaroo paws are beginning to flower with Anigozanthos flavidus [Section 8] displaying its matt green 'paw' flowers and others with dark red flowers.
Walk below the branches clad with sweetly perfumed cream flower balls of Kunzea ambigua [Section 30] and Kunzea ambigua x capitata [Section 30]. Grevillea treueriana [Sectiion 30], edging the path has rather stunning red toothbrush-like red flowers and Verticordia galeata [Section 30], close by, is a dwarf plant clad with bright yellow fluffy flowers. Grevillea 'Coconut Ice' [Section 25], behind the notice board has large terminal flower spikes of 'cool' shades of red.
There are many grevilleas to view along this path. Other plants include Banksia blechnifolia [Section 26] which is a dwarf spreading plant with dusky red flower spikes and deeply lobed green leaves emerging from the soil below which are the branches. Banksia caleyi [Section 24] is a small shrub with narrow toothed leaves concealing its deep scarlet pendant flower spikes seen down at the base level.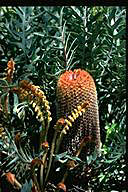 Banksia blechnifolia - click for larger image
Following the winding path through the Sydney Floral Region Ozothamnus diosmifolius [Section 191s], are dense rounded shrubs clad with large heads of cream flowers. Pomaderris cinerea [Section 191s] is another large shrub bearing dense sprays of deep cream buds. Opposite, Dampiera purpurea [Sectiion 191s] is a small upright plant with deep blue flowers. At the 'look down' see Hibbertia scandens [Section 191s] with large yellow flowers climbing about a tree trunk. A close-up view of Gymea Lily, Doryanthes excelsa [Section 191d] with a large cluster of bright red flowers atop a long upright stem surrounded by large sword-like leaves. Thryptomene thymifolia [Section 191l] is a dense shrub covered in profusion with its small pink frilly flowers while later many Flannel flowers, Actinotus helianthi 'Federation Stars' [Section 191l] are striking with their soft large cream many-petalled flowers with the grey velvety foliage.
Cross the Eucalyptus Lawn to the Rock Garden, so full of gorgeous flowers, down through the cooling Rain Forest and so, down to the coffee house.
And that's just a few of these exquisite Australian flowers … Barbara Daly.
---
Updated 25 January, 2008 , webmaster, ANBG (anbg-info@anbg.gov.au)
---