---
---
In Flower this Week
A weekly news sheet prepared by a Gardens' volunteer.
Numbers in square brackets [] refer to garden bed Sections. Plants in flower are in bold type.
16 November 2007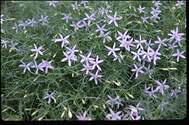 Isotoma axillaris - click for larger image
The flowers in the gardens continue to be magnificent particularly the flaming red bottlebrushes and the tea-trees. This walk however is to discover some of many in the Rock Garden starting at the base of the waterfall walking in a clockwise direction. Edging the stairs Hibbertia pedunculata [Section 15D] is a dense groundcover bright with open yellow flowers while Grevillea 'Poorinda Royal Mantle' [Section 15D] also a groundcover, with many dark red toothbrush- like flowers amid the dense foliage, creeps across the path and also down the rockface.
A group of bluebells, Wahlenbergia ceracea [Section 15M] is dense with its lovely blue flowers while Isotoma axillaris [Section 15G] presents its blue star flowers on upright stems. Climbing the stairs edged with Homoranthus flavescens [Section 15A] a flat topped spreading shrub with aromatic yellow flowers in profusion. Opposite, the grand old Grevillea 'Masons Hybrid' [Section 15H] spreads its long branches clad with terminal clusters of pink and cream flowers above the seat. Opposite, a backdrop of bottlebrushes, Callistemon viridiflorus [Section 15A] with yellow flowers and Callistemon 'Reeves Pink' [Section 15A] with pink bottlebrushes, are quite colourful
From the top road, close to the grevillea the grey-green sprays of Derwentia perfoliata [Section 15H] can be seen with terminal sprays blue flowers, and the Blue Grass Lily, Agrostocrinum scabrum, [Section 15H] displaying its blue star-like flowers surrounded by the grass like foliage. Alas, these flowers individually last only for one day. Scaevola albida var. albida [Section 15H] is a low spreading plant clad with white fan shaped flowers close to Dampiera sylvestris [Section 15H] a suckering plant with its bright deep blue flowers on upright stems. Conostylis aculeata [Section15J] is a small tufted plant crowned with heads of yellow rather woolly flowers.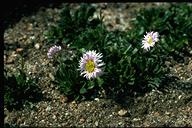 Brachyscome spathulata - click for larger image
Take this curved path down close to the sundial, to view Eremaea beaufortioides [Section 15R] a shrub mostly falling over the path. The terminal flower clusters are coloured orange. Behind, the Native Iris, Patersonia umbrosa [Section 15R] is a small tufted plant with prominent deep purple three petalled flowers. There too, is Verticordia sp. [Section 15R] a low spreading shrub with heads of lovely lacy mauve flowers. Walking down the slope Brachyscome spathulata [Section 15P] forms a groundcover revealing its soft pink daisy-like flowers. Opposite, Brachyscome formosa [Section 15R] is also a ground cover with differing foliage and with larger yellow centred mauve daisy-like flowers. An emu bush, Eremophila christophori [Section 15R] is an upright shrub attractive with its mauve coloured bugle shaped flowers. Labichea lanceolata [Section 15R] is a rounded shrub coloured with yellow flowers, each petal marked with a red spot. Jacksonia lehmannii [Section 15R] is clad with yellow pea shaped flowers over this tall shrub. To the left close to the lawns, Myoporum floribundum [Section 15R] is an upright shrub with fine short leaves falling from the lateral branches along which tiny white flowers crowd along the upper side of the branches.
Certainly a great area of the gardens … Barbara Daly.
---
Updated 24 January, 2008 , webmaster, ANBG (anbg-info@anbg.gov.au)
---