---
---
In Flower this Week
A weekly news sheet prepared by a Gardens' volunteer.
Numbers in square brackets [] refer to garden bed Sections. Plants in flower are in bold type.
26 October 2007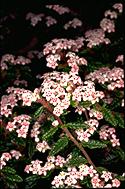 Rulingia hermanniifolia- click for larger image
With these hot days a walk through the Rainforest Gully is desired. Leading to it view orchids Thelychiton (Dendrobiurn) tarberi [Section 210] with long cream sprays of flowers attached to the walls opposite the Visitors Centre. Before walking up the ramp, view the colour edging Banks Walk where the bright yellow flowers balls on a tall shrub of the wattle, Acacia dempsteri [Section 210] blend with the large purple flowers of Alyogyne 'West Coast Gem' [Section 210] and Hibbertia empetrifolia [Section 210] dense with yellow flowers, falling over the rock wall.
From the ramp, a mint bush, Prostanthera sp. [Section 2101 drapes its branches clad with small purple flowers, towards the path. Almost opposite, Chorizema cordatum [Section 210] is a prostrate plant with bright orange-red pea shaped flowers edging the lateral branches. A waratah, Telopea 'Braidwood Brilliant' [Section 210] is brilliant with its renowned red flowers atop the large shrub. Philotheca 'Profusion' [Section 210] is a neat rounded shrub covered with white star-like flowers. Hibbertia fasciculata [Section 210] is bright with yellow flowers over the low upright dense shrub. A Tea-tree, Leptospermum polygalifolium 'Pink Cascade' [Section 210] has pinkish flowers covering the low branches which lean over the path. Edging the path, Rulingia hermanniifolia [Section 210] is semi-prostrate with dark centred white flowers covering the ground hugging branches.
Entering the Rainforest notice the many orchids, mostly attached to tree trunks edging the boardwalk. Walk below the branches of Zieria arborescens [Section 148] clad with tiny white flowers. Dagger orchid Dockrillia pugioniformis [Section 148] falls from a tree branch has dagger shaped small leaves and tiny lemon flowers. Orange Blossom orchid, Sarcochilus falcatus [Section 148] with sparkling open white flowers surrounded by curved leaves, clings to the tree trunks. A tall shrub, Vesselowskya rubifolia [Section 148] reveals its tiny cream flowers white radiate from spikes.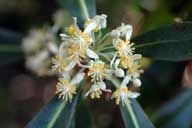 Tasmannia purpurascens - click for larger image
Opposite the intersection the Broad-leaved Pepperbush, Tasmannia purpurascens [Section 148] has large clusters of white flowers, while beside it, Zieria granulata [Section 148] has soft fine foliage clad with tiny white flowers. Looking down the stairs into the gully, the shrub clad with white flowers is that of the Northern Pepperbush, Tasmannia insipida [Section 147] The Rat-tail orchid, Dockrillia mortii [Section 65] has long rounded foliage and mauve tinted white flowers. Before crossing the bridge and to the left and high up the large mauve coloured shrub is that of a mint-bush, Prostanthera sp. [Section 2191 Much closer is a shrub, Quintinia verdonii [Section 64] well clad with yellowish buds which will open to upright cream flower spikes.
Crossing the bridge and at the exit to the Rainforest, attached to the rocks, orchids Thelychiton kingianus [Section 104] bears its renowned pink flowers white Thelychiton x delicatus displays its small white flowers. Opposite, a tall dense shrub, Acradenia euodiiformis [Section 158] is spectacular with a covering of large loose clusters of white flowers. Return following the road edging the Rainforest to view other orchids.
Cool, pleasant interesting walk… Barbara Daly
---
Updated 30 October, 2007 , webmaster, ANBG (anbg-info@anbg.gov.au)
---