---
---
In Flower this Week
A weekly news sheet prepared by a Gardens' volunteer.
Numbers in square brackets [] refer to garden bed Sections. Plants in flower are in bold type.
19 October 2007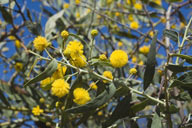 Acacia dempsteri- click for larger image
The beautiful spring flowers are seen throughout the Gardens and this walk will venture past many. Edging Banks Walk a wattle, Acacia dempsteri [Section 210] is a tall shrub dotted with large yellow flower balls. Olearia phlogopappa [Section 210] has deep pink daisy-like flowers and the wall is covered with Hibbertia empetrifolia [Section 210] with its bright yellow flowers, broken by a vine, Hardenbergia violacea [Section 210] with its purple pea-flowers.
Opposite the café the white daisy-like flowers atop long upright stems are those of Helichrysum elatum [Section125].Walking up the road edging the Rainforest Gully Grevillea rosmarinifolia 'Rosy Posy'[Section 182] is a small shrub bearing pink-cream flower clusters pendent, like lanterns from the branches. Many orchids can be seen edging the Rainforest side, including Thelychiton (Dendrobium) kingianus [Section 125] covering the rocks with pink flowers. The Broad-leaved Pepperbush, Tasmannia purpurascens [Section 125] is a dense upright shrub with clusters of white flowers surrounded by large shiny leaves. Grevillea 'Poorinda Royal Mantle' [Section 124] is a dense ground cover bearing many deep red toothbrush-like flowers. Beside it is Grevillea 'White Wings' [Section 124] profuse with white lacy flowers over the large shrub. Pittosporum undulatum [Section 125] is a tall dense shrub with branches clad with shiny leaves and terminal clusters of small cream perfumed flowers.
Opposite the Brittlegum Lawn, Austral Indigo, Indigofera australis [Section 114] is a loosely branched shrub with deep pink pea-shaped flowers in profusion. The small tree in the rainforest in front, laden with sprays of cream buds is that of Melicope micrococca [Section158]. The next corner is covered with buttercups, Ranunculus collinus [Section 78] with its shiny yellow flowers.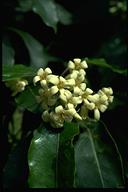 Pittosporum undulatum - click for larger image
There are many flowers in the triangular garden, which include Lechenaultia formosa [Section 17] a small plant with orange-red flowers and Brachyscome 'Breakoday' [Section 17], also a dwarf plant with soft foliage and mauve daisy-like flowers. Hibbertia kaputarensis [Section 17] is a small rounded shrub clad with bright yellow open petalled flowers, Eremaea asterocarpa subsp. brachyclada [Section 17] also a small shrub with striking orange coloured flowers and edging the corner, Dampiera salahae [Section 17] with its sprays of deep blue flowers amid the green-grey foliage. At the other corner Chamelaucium 'Cascade Brook' [Section 17] is a dense shrub of medium size displaying its lovely dark centred pink waxy flowers.
Edging the road and into the Rainforest, Thelychiton tarberi [Section 104] can be seen attached to a tree with white sprays of orchid flowers, and attached to the rocks with ageing yellow orchid sprays. Crossing this path a tall arching shrub with branches above the road a suckering plant, Commersonia fraseri [Section 140] has large velvety leaves and clusters of white daisy-like flowers.
To return via the Main Walk through the Rainforest, there are many orchids seen on the tree trunks, so varied, so attractive.
The Australian flowers … so wonderful … Barbara Daly.
---
Updated 23 October, 2007 , webmaster, ANBG (anbg-info@anbg.gov.au)
---