---
---
In Flower this Week
A weekly news sheet prepared by a Gardens' volunteer.
Numbers in square brackets [] refer to garden bed Sections. Plants in flower are in bold type.
12 October 2007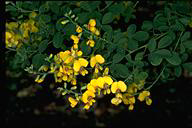 Goodia lotifolia - click for larger image
The flowers around about these buildings are varied and most colourful. However why stop here when there is another paradise of such colour in another area where the shades of pink and yellow and white complement each other …. come and enjoy this other wonderland.
Select any path or follow that marked on the map, there's flowers to enjoy all the way. At this beginning Goodia lotifolia [Section 45] is dense with bright yellow pea flowers. To the right Pultenaea stipularis [Section 45] is a much larger shrub clad with darker yellow pea perfumed flowers favoured by bees. Edging the path upwards, Philotheca myoporoides subsp. myoporoides [Section 49] are neat rounded shrubs clad with white starry flowers. At the path junction the low plant with yellow flower balls surrounding the trunk of the Bastard Stringybark, Eucalyptuscampanulata is Leionema phylicifolium [Section 48]. The twining vine with purple pea flowers on stems rising above its dark green foliage, covering the ground and nearby shrubs is Kennedia retrorsa [Section 47, 48] Zieria parrisiae [Section 47] also has an abundance of tiny white flowers covering the shrub while beside it Eutaxia cuneata [Section 487] has sprays of red centred yellow pea flowers. Another shrub clad with cream fluffy flowers is Phebalium squamulosum subsp. ozothamnoides [Section 46]. Close by a wattle, Acacia pycnostachya [Section 46] is a small erect tree with dark green/grey foliage and dazzling with densely clustered bright yellow flower rods… really splendid!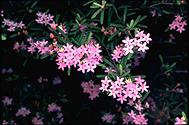 Phebalium woombye - click for larger image
Following this path to the top, shrubs with differing white flowers persist. They include Asterolasia sp. nov. [Section 46] with open petalled flowers, Phebalium woombye [Section 46] with many buds and small heads of flowers. Many boronias are also seen along this path. They include Boronia muelleri 'Sunset Serenade' [Section 46] in a group, dense with pink and white four petalled flowers., while behind, Boronia mollis 'Lorne Pride' [Section 46] in a group, is taller with deeper pink flowers. Down the side path Boronia microphylla [Section 46] is a low spreading shrub with its own shade of pink flowers. Uphill, Boronia sp.aff. deanei [Section 46] and Boronia anemonifolia var variabilis [Section 46] both with pink star flowers while opposite, Diplolaena microcephala [Section 46] is a low spreading shrub with greenish yellow flowers. Boronia muelleri 'Tyalge Ruby' [Section 46, 56] with pink flowers and Phebalium sp. aff. phylicifolium [Section 56] look good together, then at the top of the path, Dryandra glauca [Section 56] is a small dense shrub with lime coloured flowers, Hardenbergia violacea [Section 56] wraps itself about the bare trunk of Hakea lissocarpha [Section 56] with terminal foliage and a head of cream fluffy flowers. Banksia petiolaris [Section 56] is a groundcover with underground stems from which upright leaves and dark maroon immature flower spikes emerge. Waratahs, Telopea mongaensis x oreades [Section 56] are yet small with heads of open red flower heads.
And then a welcome seat beside which is Grevillea corrugata [Section 56] a large perfumed shrub with masses of white feathery flowers. But downhill, that is another story for there other flowering plants to admire.
A most enjoyable place … Barbara Daly.
---
Updated 17 October, 2007 , webmaster, ANBG (anbg-info@anbg.gov.au)
---