---
---
In Flower this Week
A weekly news sheet prepared by a Gardens' volunteer.
Numbers in square brackets [] refer to garden bed Sections. Plants in flower are in bold type.
17 August 2007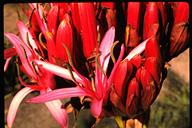 Doryanthes excelsa - click for larger image
This is a late winter walk to view flowers in the Rock Garden. Even though the winter flowering is almost finished and the spring flowers are mostly in bud awaiting warmer days there are many to admire. Start at the base of the waterfall and walk in an anti- clockwise direction where the Gymea Lily, Doryanthes excelsa [Section 15C] with large strappy leaves has still tightly closed buds on top of long stems. Then, invading the road, Banksia integrifolia subsp. integrifolia [Section 15C] is a semi-prostrate shrub with silver backed leaves and upright cylindrical lime green flower spikes. Almost opposite, behind a dense shrub, Banksia 'Honeypots' [Section 15D] is a dense low shrub with many gold flower spikes with red honey coloured styles.
In this small garden an Emu Bush, Eremophila sargentii [Section15E] is an upright shrub with tiny leaves and small white throated bluish tubular flowers while in the next garden Homoranthus darwinioides [Section 15F] is a low spreading shrub with grey-blue foliage and unique cream flowers which redden on ageing. Around the corner Hypocalymma xanthopetalum [Section 15F] like so many shrubs, has been damaged by drought frost and winds but continues to bear fluffy yellow flowers on its protected side. Baeckea crassifolia [Section 15F] seen around the corner, is a small slender plant well covered with small pink flowers while, in the centre of this garden Eremophila maculata var. brevifolia [Section 15F] has a covering of magenta coloured tubular flowers. Grevillea lanigera [Section 15W,15H]] is a ground-cover with many pink and cream flowers, seen falling down the slope and above the stairs. Micromyrtus ciliata [Section 15G] is so attractive for this low growing plant now is clad with brick red buds along its lateral branches. They will mature to tiny white flowers.
The wattle above is Acacia caesiella [Section 2], quite a large tree yellow with buds. Edging this top road Olearia astroloba [Section 15H] is bright with mauve daisies mingling with the dense foliage. Beside is Cryptandra sp. [Section 15H], a low spreading shrub clad with heads of tiny white flowers. Turn down opposite Acacia 'Purpurea' [Section 3] a large spreading shrub yellow with buds and fluffy flowers among its bluish foliage and where the Grass Trees, Xanthorrhoea johnsonii [Section 15J,N] are growing. The path runs into the Cauliflower Hakea, Hakea corymbosa [Section 15 P] of medium size with large clusters of short spiky leaves mixing with its same-coloured green flowers and liked by the many bees. Edging this section, Isopogon buxifolius var. spathulatus [Section N] is a small shrub with small woolly pink flower clusters while Eremophila subfloccossa [Section N] has hairy grey-green leaves enveloping the branches. Its lime green tubular flowers can be seen between the leaves.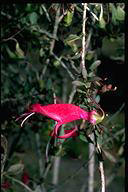 Eremophila maculata var. brevifolia - click for larger image
Edging the stairs Hardenbergia 'Mini Haha' [Section 15S] with its deep purple buds opening to purple pea shaped flowers, cascades over the rocks. At the base Thryptomene denticulata [Section 15S] continues to cover its arching branches with tiny pink flowers while, beside the drinking fountain, Guichenotia ledifolia [Section 4] is still well covered with soft down-turned pink flowers.
Today small birds include the tiny blue wrens which seem to spring about the paths and the black honeyeater with splashes of yellow and white enjoy the offerings of the shrubs.
A really lovely place … Barbara Daly.
---
Updated 20 August, 2007 , webmaster, ANBG (anbg-info@anbg.gov.au)
---