---
---
In Flower this Week
A weekly news sheet prepared by a Gardens' volunteer.
Numbers in square brackets [] refer to garden bed Sections. Plants in flower are in bold type.
10 August 2007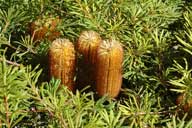 Banksia spinulosa 'Stumpy Gold' - click for larger image
Tis time to roam about these wonderful gardens to see flowers among the yet budding shrubs. But first, edging Banks Walk Darwinia macrostegia [Section 174] is picturesque with many slim red tube-like buds dangling from the branches of this small shrub. They will mature to cream and red bell-like flowers. Olearia ramosissima [Section 74] has a coverage of small white daisy-like flowers over this dwarf plant and Epacris reclinata [Section 174]has pink tube shaped flowers with white mouth, all clinging to the wiry upright stems. At the corner, Crowea 'Festival' [Section 174] continues to bear its bright pink star shaped flowers On the lower level, edging the path, ground cover, Grevillea lanigera [Section 174] shows its spider-like pink and white flowers while above Thryptomene saxicola [Section 174] covers its lateral branches with tiny pink flowers .
In front of the café, Banksia 'Birthday Candles' [Section 244] is colourful with an abundance of upright gold cylindrical flower spikes over the dwarf plant while Banksia 'Stumpy Gold' [Section 131] is a low-growing, also dense plant with somewhat similar flower spikes. At the corner Banksia spinulosa var. spinulosa [Section 131] is of medium size with gold flower spikes ribbed with red styles.
From the road uphill Chorizema cordatum var.intermediate [Section 127] is a spreading shrub with red pea flowers. Behind is an upright Xerochrysum sp. [Section127] with white straw flowers. Worth viewing is Chamelaucium 'Murfit Rose' [Section 124] leaning towards the road, bright with deep pink open waxy flowers and many deeper pink buds.
Taking the path past a grouping of grass trees, Xanthorrhoea glauca [Section 8] where Banksia ericifolia var. ericifolia [Section 30] is a large spreading shrub illuminated with many rich golden flower spikes. Then where the Main Path crosses the road take the narrow path to wander along where many grevilleas are in bud Grevillea rosmarinifolia subsp. rosmarinifolia [Section 27] though, has a coverage of yellow buds just maturing to yellow flowers over the low spreading shrub. Beside it is Grevillea dimorpha [Section 27] has its red buds and flowers with long red styles clinging to the upright branches. At the end of the path, Banksia integrifolia subsp. compar [Section 27] is a large spreading shrub with an abundance of cream flower spikes and birds enjoying the nectar. Around the corner the False Sarsaparilla, Hardenbergia violacea [Section 27] has purple pea flowers along its trailing stems.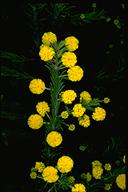 Acacia gordonii - click for larger image
Time now to follow the path on the far side of the Sydney Basin which is always a joy to roam. Banksia oblongifolia [Section 191k] has small green flower spikes mixing with ageing dark spikes and Epacris longiflora [Section 191k] reveals its bright red and white tube flowers long its wandering stems and at the far end, with valley dense with tree ferns including Dicksonia antarctica,[Section 191d] River Rose, Bauera rubioides [Section 191j] edging the road is very dense and bright with its lovely small pink and white flowers. The wattle, Acacia subulata [Section 191j] amid this shrub is an upright seedling with narrow foliage and soft fluffy flower balls while at the corner, Acacia gordonii [Section 191f], is a low spreading shrub with short leaves and deep golden flower balls.
Whatever path taken for the return there will be enjoyment ……………...Barbara Daly.
---
Updated 10 August, 2007 , webmaster, ANBG (anbg-info@anbg.gov.au)
---