---
---
In Flower this Week
A weekly news sheet prepared by a Gardens' volunteer.
Numbers in square brackets [] refer to garden bed Sections. Plants in flower are in bold type.
20 July 2007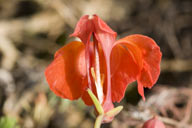 Lechenaultia formosa - click for larger image
Heavy frosts, hopefully sunny days, regardless desirable for a Gardens walk. Many banksias are quite colourful, grevilleas and other plants are almost bursting into flower. The pots outside the Visitors Information Centre contain the colourful Lechenaultia formosa, a small plant clad with bright orange-yellow flowers. Edging Banks Walk, Olearia ramosissima [Section 174] is a dwarf rounded shrub clad with pale mauve daisy-like flowers while, nearby Epacris reclinata [Section 174] has pink tubular flowers edging the small upright branches Thryptomene denticulata [Section 174] continues to present its pink flowers along its low arching branches while Grevillea 'Bonfire' [Section 210] shows its waxy red flower clusters terminally on long branches protruding through other shrubs, next to the waterfall. Arching across the bridge, Asterotrichion discolour [Section 66] is a tall shrub with soft hairy leaves and small sprays of perfumed cream flowers.
The Ellis Rowan Garden edging the café building contains Banksia 'Stumpy Gold' [Section 131] a dwarf spreading shrub with many upright cylindrical gold flower spikes ribbed with dark styles. At the far end of this garden Banksia 'Honeypots' [Section 131], also a dwarf shrub, has gold flower spikes ribbed with 'honey' red styles. The opposite garden contains a grouping of Crowea 'Cooper's Hybrid' [Section 240] the dense shrubs bearing pink star shaped flowers.
Cassia odorata [Section 119] is an upright suckering shrub with bright yellow cup shaped flowers scattered among the dark green foliage. In front Correa 'Pink Mist' [Section 119] is not so tall with numerous pendulous pink tubular flowers. Taking path past the Qld Bottle Tree, Brachychiton rupestris [Section 302] with swollen bottle-like trunk, to join the Main Path. Eriostemon 'J. Semmens [Section 30] is a rounded shrub clad with many pink buds and opening to pale pink multi-petalled flowers. A very large Banksia ericifolia var.ericifolia [Section 30] is so bright with its coverage of large golden flower spikes while Banksia spinulosa [Section 27] is yet a small shrub covered in profusion with yellow flower spikes. Grevilleas include Grevillea confertifolia [Section 24] which has low spreading branches tipped with cream, yellow tipped flower spikes among the fine divided leaves, Grevillea 'Bonfire' [Section 24], on either side of a seat, is dense with many red flower clusters amid the foliage of the tall shrubs. Grevillea tripartita subsp. macrostylis [Section 26] behind the next seat, is an open shrub quite attractive with spider flowers coloured cream-red with long curved red style. Grevillea dielsiana [Section 26] is an upright shrub eye-catching with its bright orange-red pendulous flower cluster while. Grevillea flexuosa [Section 26] is a dense entanglement of branches dotted with few yellow cigar shaped flowers.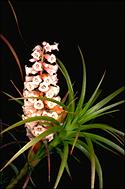 Dracophyllum secundum - click for larger image
Another section worth viewing is above the Eucalyptus Lawn where the Peach flowered Tea-tree, Leptospermum squarrosum [Section 44] continues to cover branches with its pink open flowers In front is Grevillea sphacelata [Section 44] displaying its terminal heads of cream-grey flowers and beside is Crowea saligna [Section 44] a low dense shrub bright with deep pink starry flowers. Worth viewing, edging the side path, Dracophyllum secundum [Section 44] has many upright branches with well arranged leaves and tipped with many small tubular flowers coloured white to pink.
Always another flower to view … Barbara Daly.
---
Updated 2 August, 2007 , webmaster, ANBG (anbg-info@anbg.gov.au)
---