---
---
In Flower this Week
A weekly news sheet prepared by a Gardens' volunteer.
Numbers in square brackets [] refer to garden bed Sections. Plants in flower are in bold type.
6 July 2007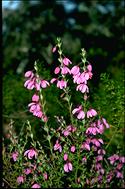 Tetratheca thymifolia- click for larger image
The bridge across the Rainforest Gully is closed. To join the Main Path which this walk is about to meet it up the road on the far side of the Rainforest Gully. Pass by the caged Wollemi Pine, Wollemia nobilis [Section 110] growing taller every year, to the Rock Garden where Guichenotia ledifolia [Section 4] is a small shrub, next to the drinking fountain, conspicuous with its coverage of down-turned pink flowers. A bottlebrush, Callistemon sp. [Section 4] close by is tall with a scattering of small red flowers while Thryptomene denticulata [Section 15S] is massed with tiny pink flowers covering the low arching branches. Just past the Rock Garden Hakea obtusa [Section 20] is a rounded, medium sized shrub clad with rather leathery leaves behind which, crowded on the old wood the lovely globular pink with cream styles flowers resembling pincushions can be seen.
Crossing the Eucalyptus lawn to the Sydney Region Gully welcomed by Crowea saligna [Section 191L] hidden by the rounded seating. Its star-shaped flowers are a rich pink, the foliage a waxy green. Opposite are a few flannel flowers, Actinotus helianthi [Section 191l] with large clusters of silver grey foliage and few smallish cream velvet daisy-like flowers. Following this winding path, Epacris calvertiana var. calvertiana [Section 191E] has small clusters of white tube flowers scattered along its wiry stems. Behind, Triplarina imbricata [Section 191E] is an open erect shrub clad with small open white flowers.
At a road junction, Black-eyed Susan, Tetratheca thymifolia [Section 191J] is a low spreading shrub with a scattering of downturned pink dark centred flowers. Opposite the look-down over the gully, numerous young wattles can be seen. They are Acacia suaveolens [Section 191P] with upright cream flower balls along the terminal branches. Towards the end of this path, Scaevola aemula [Section 191H] continues to bear its mauve fan-shaped flowers over the dense prostrate plant.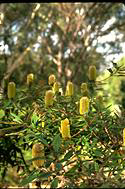 Banksia oblongifolia- click for larger image
Crowea exalata [Section 112] bears many pink starry flowers over the upright shrub while a prostrate form can be seen close by. Across the road many grevilleas are still to flower while others are blooming. They include Grevillea flexuosa [Section 26] with few yellow cigar-like flowers over the entanglement of branches, Grevillea rosmarinifolia [Section 24] with deep red, not quite open, flowers and Grevillea tripartita subsp.macrostylis [Section 26] with sharp leaves and interesting red-yellow flowers with long red curved styles. There too, are Grevillia dielsiana [Section 26], yet small with orange toned pendent flower clusters and Grevillea 'Bonfire' [Section 24] on either side of the seat, tall dense shrubs with waxy red flower clusters.
Crossing the road, Banksia spinulosa [Section 27] although a small shrub has many brilliant yellow upright cylindrical flower spikes while opposite, Banksia oblongifolia [Section 25] while not so attractive, is of medium size with green flower spikes especially in clusters about the base. Banksia ericifolia var. ericifolia [Section 30] is a large open shrub illuminated with large golden flower spikes. Towards the café building which ends this walk the dainty Thryptomene denticulata [Section 11] is crowned with tiny flowers.
With chilly days and fresh breezes it is just right for this walk … Barbara Daly.
---
Updated 9 July, 2007 , webmaster, ANBG (anbg-info@anbg.gov.au)
---