---
---
In Flower this Week
A weekly news sheet prepared by a Gardens' volunteer.
Numbers in square brackets [] refer to garden bed Sections. Plants in flower are in bold type.
29 June 2007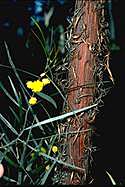 Acacia fauntleroyi- click for larger image
Hasn't it been lovely rain! This week's winter walk begins behind the café on the road beside the rainforest. On the right, near the corner, Acacia fauntleroyi [Section 128] has small yellow rod flowers and interesting, curling 'minni-ritchi' bark. Large clusters of pink flowers hang from Grevillea rosmarinifolia 'Rosy Posy' [Section 128] further on.
Turning right you enter an area with many cultivars. Near the corner on the right Melaleuca 'Hot Pink' [Section 126] has many bright flowers. Beside it, Banksia spinulosa [Section 126] displays bright honey-gold brushes with red styles. Still on the right, Westringia eremicola [Section 127] has light mauve flowers and pale apricot-yellow flowers adorn a tall Grevillea 'Poorinda diadem' [Section 127].
At the T-junction and a lovely old white-trunked eucalypt, turn left before turning right beside the Bottle Tree. Opposite, lime-green flowers protrude from the woolly grey leaves of an Emu bush, Eremophila subfloccosa ssp. subfloccosa [Section 302]. If you have time, many interesting Eremophilas can be found in the beds on both sides of the path.
Joining the Main Path, walk past the Gymea lilies with towering flower stalks preparing for a spring display. On the left, just past the Waratahs, Eriostemon 'J.Semmens' [Section 30] has multi-petalled pink flowers. A huge Banksia ericifolia var.ericifolia [Section 30] displays long orange-red spikes. Continuing along, on the right Dryandra quercifolia [Section 30] has stubby toothed leaves, orange buds and large yellow flowers. Opposite Dryandra fraseri var. fraseri [Section 30] has longer leaves, dull gold flowers and pink-brown buds.
There are many lovely Banksias and Grevilleas in this area, but note Banksia oblongifolia [Section 25] on the left, with small yellow-green flower spikes, many some growing from the woody base of the plant. Grevillea jephcottii [Section 25], also on the left, is a rare plant with unusual creamish-green flowers. Continuing on the Main Path, across the road on the right Grevillea triloba [Section 26] shows off feathery clusters of white flowers. On the left Grevillea 'Bonfire' [Section 24] has brilliant red spider flowers contrasting with bright green divided foliage. On the right a low-growing Banksia spinulosa var. spinulosa [Section 26] has black styles.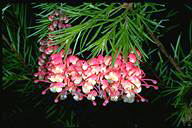 Grevillea rosmarinifolia 'Rosy Posy'- click for larger image
Attractive orange-red flowers show through the lacy foliage of Grevillea dielsiana [Section 26]. Hakea clavata [Section 26] has interesting, stubby leaves and clusters of pink flowers. Behind the seat Grevillea tripartita subsp. macrostylis [Section 26] has arching stems with holly-like leaves and conspicuous orange-red flowers, while Grevillea haplantha subs. haplantha [Section 26] has thick grey leaves and red and creamy yellow flowers.
The Main Path winds on and there is still so much to see…
Kath Holtzapffel
---
Updated 4 July, 2007 , webmaster, ANBG (anbg-info@anbg.gov.au)
---