---
---
In Flower this Week
A weekly news sheet prepared by a Gardens' volunteer.
Numbers in square brackets [] refer to garden bed Sections. Plants in flower are in bold type.
22 June 2007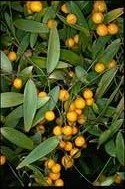 Eustrephus latifolius - click for larger image
Brighten up a foggy day by looking at flowers in the Gardens. The walk today starts at the far end of the Ellis Rowan Building, past the cafe. Turn left onto the bitumen road. Just round the corner is a group of Hairpin Banksia Banksia spinulosa, with large orange candles [Section 131]. You may be lucky enough to see a Red Wattle Bird feeding on the nectar. On your right is a Callistemon 'Splendens' with red brushes. Continuing up the hill, on the left, is a Wombat Berry Eustrephus latifolius, a climber with bright orange berries [Section 127]. Pause to admire the twisted white branches of an ancient Brittle Gum Eucalyptus mannifera [Section 10] on the right. Under it and uphill is a low shrub, Thryptomene 'Pink Lace' with masses of tiny mauve-pink flowers.
As you walk, you will see a number of self-sown xerochrysums, everlasting daisies with large yellow or white flowers.
Farther on, on the left [Section 119] are several low shrubs, Correa pulchella 'Pink Mist' with salmon pink bells. Behind them are masses of tall Senna odorata with yellow cup-shaped flowers. In front of them is a sprawling shrub, Grevillea 'Red Wings', with red spider flowers. Continuing up the hill, there are two Westringia longifolia, dense shrubs with dark green foliage and pale pinky mauve flowers. In the same section is a wax flower, Philotheca myoporoides subsp. leichhardtii, with white flowers with five equal petals. Across the road on your right is a large old straggly Needle Leaved Honey Myrtle Melaleuca rhaphiophylla, with scruffy small white brushes [Section 10].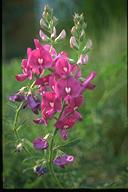 Swainsona galegifolia - click for larger image
Farther uphill on the left is a Geraldton Wax Chamelaucium 'Murfit Rose' with pink flowers [Section 117], then a mass of White Correa Correa alba with flowers with four white petals [Section 107]. In [Section 110], you can see several shrubs flowering, including Red Bottlebrush Callistemon subulatus with narrow, somewhat spiky leaves and scruffy red brushes, Smooth Darling Pea Swainsona galegifolia, with pink pea flowers, and Callistemon pachyphyllus 'Smoked Salmon' with salmon pink brushes.
Turn left onto the concrete Main Path to admire the varying foliage of the Conifers [Section 105] on the right and the Wollemi Pine Wollemia nobilis [Section 110] on the left. Turn left onto the bitumen road beside the Rain Forest Gully. On the right are several tall Scented Acronychia Acronychia littoralis, with yellow-green four-petalled flowers [Section 114]. On the left at the edge of the Brittle Gum Lawn is a large Hairpin Banksia Banksia spinulosa with huge orange candles with red hairpins (styles) [Section 109].
Betty Wood
---
Updated 4 July, 2007 , webmaster, ANBG (anbg-info@anbg.gov.au)
---