---
---
In Flower this Week
A weekly news sheet prepared by a Gardens' volunteer.
Numbers in square brackets [] refer to garden bed Sections. Plants in flower are in bold type.
8 June 2007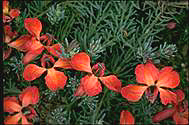 Lechenaultia formosa - click for larger image
Surprisingly there are flowers in winter. Leaving the Visitors' Information Centre to the right in ceramic pots there is Lechenaultia formosa [Section 221], a small plant with orange flowers and small hardy leaves running along the stem. Continue along the path to the left until you reach the Friends cascading waterfall. There is Lechenaultia biloba [Section 221], a mauve flower with lime green leaves along the stem.
Go down the stairs, turn first left and walk past the finished bulrushes. Little wrens twitter. There is Hakea 'Burrendong Beauty' [Section 221], a prostrate spreading groundcover with exquisite crimson pom poms and pink stamens like a pincushion growing along the stem. Further along, just near the stairs to the Visitors' Information Centre is Allocasuarina littoralis [Section 174], a small graceful tree which is in flower: fluffy dark crimson flowers on the stem.
Walk on past the bus shelter. To the left is Banksia ericifolia 'Red Clusters' [Section 174, a small tree which has honeyeaters sucking nectar out of the orange flower heads; mid green leaves spiraling around the stem. Two along is Thryptomene saxicola [Section 174]; a profusion of pink little flowers with deep pink centers. It is a small shrub with small leaves. Just in front lining the rock wall is a groundcover, Brachyscome 'Breakoday' [Section 174], purple daisies with fine elegant leaves. At the end of the garden bed is a medium shrub Crowea 'Festival' [Section 174], a good winter standby in the garden. It has pink star-like flowers with a prominent cream centre.
Walk towards the café, past the grass trees Xanthorrhoea johnsonii [Section 66] which are standing like protectors of the bridge. Cross the bridge. Here is the café and the Ellis Rowan building. In front of the entrance to the Ellis Rowan building is Banksia 'Stumpy Gold' [Section 131], a prostrate banksia with gold flower heads with deep crimson styles. The leaves are toothed and elongated spiralling around the stem. Look to the right where Ziera 'Carpet Star' [Section 131] is about to flower. One tiny four petalled flower has started to flower. Note the decorative, deep green leaves.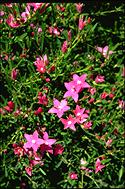 Crowea 'Festival'- click for larger image
Nearby is Pimelea linifolia [Section 131], a small dainty plant with terminal light pink flower heads and yellow green leaves. Another small shrub in this section is Philotheca 'Bournda Beauty' [Section 131]. It has white flowers and the leaves have lots of scented glands. There too is Epacris 'Nectar Pink', pink and white trumpet flowers, with small spiky leaves. Opposite is a small tree Callistemon 'Splendens' [Section 240]. The beautiful big red bottlebrushes contrast well with the green leaves. Next door are very healthy Crowea 'Coopers Hybrid' [Section 240] shrubs which have magenta pink flowers and bright green leaves.
More to see.......... Lesley Page
---
Updated 4 July, 2007 , webmaster, ANBG (anbg-info@anbg.gov.au)
---