---
---
In Flower this Week
A weekly news sheet prepared by a Gardens' volunteer.
Numbers in square brackets [] refer to garden bed Sections. Plants in flower are in bold type.
18 May 2007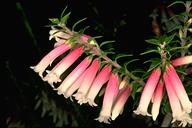 Epacris reclinata - click for larger image
Such wonderful Gardens in which to walk in this glorious autumn weather. This walk is mostly edging the far side of the Rainforest Gully. But first, Hakea 'Burrendong Beauty' [Section 221] seen at the bottom of the stairs in front of the Visitors Centre, is a prostrate spreading plant bearing lovely red pin-cushion like flowers enveloping the branch terminals. Edging Banks Walk, behind the seat Epacris reclinata [Section 174] is a small shrub clad with small tubular pink flowers dropping from its terminal branches while Epacris impressa [Section 174] has longer scraggy branches with similar flowers coloured deep pink. This plant is Victoria's floral emblem. Opposite, between the rock shelves, a mint bush, Prostanthera phylicifolia [Section 210] is quite dense with many small mauve bugle shaped flowers while below, Hibbertia vestita [Section 210] is a small prostrate plant bright with open yellow flowers.
Walking along the Rainforest verge a wattle, Acacia fauntleroyi [Section 128] is a neat upright open small tree with narrow leaves and many golden yellow fluffy flower balls. Past the bollards containing names of many threatened species, Grevillea 'Goldfever' [Section 124] has apricot coloured spider-like flowers on this dwarf spreading shrub. Opposite the green Brittlegum Lawn [Section 107] Notelaea lloydii [Section 114] down the bank, is yet a small upright plant with narrow foliage and with clusters of cream buds and flowers, not very significant but will develop dark fruits. Acronychia littoralis [Section 114,104] is quite a tall dense shrub with shiny dark green leaves and clusters of lemon four-petalled flowers. Edging the Brittlegum Lawn [Section 107] Banksia spinulosa var. spinulosa [Section 109] is splendid with its upright cylindrical gold flower spikes ribbed with reddish styles. Behind the seat Hibiscus pedunculatus [Section 109] has long branches with small pink cup-shaped flowers among other shrubs, Grevillea 'Robyn Gordon' [Section 109] is a low spreading attractive shrub revealing its terminal clusters of cream-red flowers among its dense divided foliage.
Back, edging the Rainforest Gully, a 'crafty chough' is dining off the clusters bright orange fruits of the tall slim tree, Ehretia acuminata [Section 114]. Crossing over the Main Path, Bennett's Ash, Flindersia bennettiana [Section 104] is a tall graceful tree with a heavy crown where its lateral branches have terminal sprays of large sprays of white flowers.
The triangle garden contains Epacris calvertiana var. calvertiana [Section 17], a wiry plant bearing white tubular flowers. Beside is a Geraldton Wax, Chamelaucium 'Cascade Brook' [Section 17] and in another corner, Dampiera salahae [Section 17] a suckering prostrate plant well covered with deep blue flowers. Across the road a grouping of Crowea 'Festival' [Section 123] looks magnificent with many deep pink star-like flowers.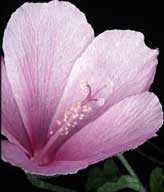 Hibiscus pedunculatus - click for larger image
Taking the road where the yellow straw daisies, Xerochrysum sp. [Section 123] are so bright, to the Rock Garden, descending the stairs where the large Grevillea 'Mason's Hybrid' [Section 15H] has large terminal clusters of red-lemon flowers and Grevillea lanigera [Section 15H] covers the ground with its red spider-like flowers. Below the Rock Garden, edging the road, an unnamed bottlebrush, Callistemon sp.[Section 110] has bright red flowers and further back, Callistemon 'Glasshouse Mountains' [Section 110] is a tall shrub with small pink bottlebrush flowers.
So many flowers to enjoy … Barbara Daly.
---
Updated 30 May, 2007 , webmaster, ANBG (anbg-info@anbg.gov.au)
---