---
---
In Flower this Week
A weekly news sheet prepared by a Gardens' volunteer.
Numbers in square brackets [] refer to garden bed Sections. Plants in flower are in bold type.
11 May 2007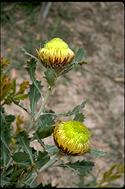 Dryandra quercifolia - click for larger image
Blooming Threads, an embroidery exhibition of Australian plants runs for only three more weeks …a 'must' to view.
This walk encounters many banksias in flower, grevilleas, hakeas and others beginning to flower. Starting at the bridge towards the cafe where Asterotrichion discolour [Section 66] arches its limbs clad with velvety leaves and many white buds and perfumed flowers overhead. Then, following the road uphill, veering to the right, large shrubs crowded together include a bottlebrush, Callistemon 'Howie's Fire Glow' [Section 124] exhibiting fiery red bottlebrush flowers on top of the tall shrub, Grevillea 'White Wings' [Section 124] showered with lacy white flowers and the apricot coloured spider flowers of Grevillea 'Poorinda Queen' [Section 124]. Westringia eremicola var.quaterna [Section 126] is an open shrub daintily clad with pink trumpet shaped flowers while, beside, Melaleuca 'Hot Pink' [Section 126] is a taller shrub, rather woody but has showy bottlebrush-like flowers.
Crossing to the Main Path past the bed of colourful yellow daisies, Banksia ericifolia var.ericifolia [Section 30] is a large spreading shrub brilliant with upright golden cylindrical flower spikes. Almost opposite, Grevillea dielsiana [Section 30] has lovely pendent orange-red flower clusters on a medium shrub while, edging the path Dryandra quercifolia [Section 30] is a dense spiky leaved shrub with large frilly lemon flower heads.
At the top of the left corner and better seen from the other side, a bottlebrush, Callistemon 'Reeves Pink' [Section 30] is of medium size having rich pink flowers. See also, Callistemon 'White Anzac' [Section 30] a low spreading shrub brilliant with fluffy white bottlebrushes. Opposite, Thomasia grandiflora [Section 25] has small downturned dark centred pink flowers scattered over the low spreading shrub.
Returning to the Main Path where one corner is clad with the prostrate Banksia integrifolia subsp. integrifolia [Section 30] where lemon flower spikes rise above the silver backed leaves. Further along, Grevillea humifusa [Section 25] snakes along the ground showy with deep red flowers.
Follow the narrow path down a few steps past the large mottled grey trunk of Eucalyptusmannifera [Section 27]. Grevillea 'Boongala spinebill' [Section 27] is a well-designed shrub revealing its red toothbrush-like flowers amid the green or juvenile red foliage. Along this tranquil path through many older shrubs, plants include Grevillea dimorpha [Section 27] an open shrub with narrow leaves and with red flower clusters along its branches. At the corner a large well branched shrub, Banksia integrifolia subsp. compar [Section 27] is laden with lemon flower clusters. Around the corner the wild parsley, Lomatia silaifolia [Section 27] is an erect shrub with long sprays of small cream flowers with recurved petals surrounded by its divided foliage.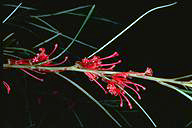 Grevillea dimorpha - click for larger image
Crossing the road are many correas including, around the corner, Correa alba var. alba [Section 112] with its flowers so pink. In front, Asterolasia sp. nov. [Section 112] is small and rounded bright with yellow flowers.
To return, take the upper road to the left to view Grevillea floribunda subsp. floribunda [Section 26] a shrub of medium size laden with ochre coloured flower rods.
Always another interesting flower … Barbara Daly.
---
Updated 4 July, 2007 , webmaster, ANBG (anbg-info@anbg.gov.au)
---