---
---
In Flower this Week
A weekly news sheet prepared by a Gardens' volunteer.
Numbers in square brackets [] refer to garden bed Sections. Plants in flower are in bold type.
4 May 2007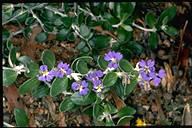 Dampiera salahae - click for larger image
This walk is around and about the Rock Garden where today, it is like a wonderland with leaf tips glistening with raindrops and many flowers to greet. To get there follow the Main Path to the end of the café building and follow the road up on the left.
Starting at the base of the waterfall where Dampiera salahae [Section 15D], behind the notice board, is a small prostrate plant with blue flowers along its trailing branches and on the opposite corner the Gymea Lily, Doryanthes excelsa [Section 15C] has flower buds on very long stems surrounded by large strappy leaves. Edging these stairs is Banksia integrifolia subsp. integrifolia [Section 15C] a prostrate plant dense with silver backed leaves and upright cylindrical lemon flower spikes.
Opposite, also reaching over the road, Grevillea 'Poorinda Royal Mantle' [Section 15D] is a dense carpet with red tooth- brush like flowers, which flows down the rock face. A large shrub, Correa 'Ivory Bells' has these tubular bells in profusion over the shrub with Banksia 'Honeypots' [Section 15D] crowded beside, displaying its large cylindrical honey coloured flower spikes.
Hypocalymma xanthopetalum [Section 15F], tight between the rocks is a small shrub clad with tiny yellow fluffy flowers. Behind, Pimelea spicata [Section 15F] is a dwarf rounded plant crowned with rounded clusters of pink flowers. Around the corner, Lomandra leucocephala subsp. robusta [Section 15F] is a small tufted plant with globular clusters of cream flowers surrounding the stems.
Grevillea lanigera [Section 15W] flowing down the slope, is a most attractive groundcover profuse with pink spider-like flowers. Edging the stairs, Plectranthus argentatus [Section 15A] with branches escaping through dense shrubs, has rough prominent veined leaves and mauve-white tiny flowers covering the terminals of the mauve stems. Opposite, Grevillea 'Mason's Hybrid' [Section 15H] is a large mature shrub beautified with many large terminal orange-red flower spikes its large branches arching over the path. Edging the top road a group of yet small dwarf shrubs, Hibbertia spicata [Section 15H] colourful with their yellow flowers. Further along, Scaevola albida var. albida [Section 15H] is a prostrate spreading plant displaying its white fan shaped flowers along the lateral branches while beside, is Dampiera sylvestris [Section 191H] a suckering plant with blue flowers on its upright stems. Olearia astroloba [Section 15H] bears mauve daisy-like flowers over the rounded upright shrub. At this corner Artanema fimbriatum [Section 15J] and under a grass tree Xanthorrhoea johnsonii [Section 15J] has lovely blue, white streaked bugle shaped flowers mixing with its narrow leaves.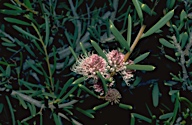 Hakea clavata - click for larger image
Take the narrow path down to view Hakea clavata [Section 15P] a large shrub with wandering branches, sharp club-like leaves and pink flower heads. Down this path is Brachyscome angustifolia var. heterophylla [Section 15P] bearing small pink daisy-like flowers over this dense ground-cover. Edging the path Grevillea humifusa [Section 15P] is a prostrate plant with red toothbrush-like flowers. Correa 'Misty Pink' [Section 15S] bears many pendulous pink tube shaped flowers on the rounded shrub while Correa 'Cane's Hybrid '[Section 15S] colours its tubular flowers pink and lime.
Thryptomene denticulata [Section 15S] is a picture for this low spreading shrub covers its arching branches with tiny pink flowers. Throughout these gardens the yellow straw flowers, Xerochrysum Sp. brighten many spots.
Another great area to investigate … Barbara Daly.
---
Updated 8 May, 2007 , webmaster, ANBG (anbg-info@anbg.gov.au)
---