---
---
In Flower this Week
A weekly news sheet prepared by a Gardens' volunteer.
Numbers in square brackets [] refer to garden bed Sections. Plants in flower are in bold type.
27 April 2007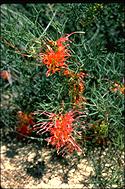 Grevillea dielsiana- click for larger image
This walk follows the Main Path identifying some colourful flowers of autumn starting at the far corner of the café building. An emu bush, Eremophila bowmanii var. bowmanii [Section 302] is a small plant yet with few mauve bugle shaped flowers. The next section is bright with self-seeding yellow straw daisies, Xerochrysum sp. [Section 303] and Chrysocephalum apiculatum [Section 303] a suckering prostrate herb with small button-size yellow flower clusters above its green foliage.
Banksia ericifolia var. ericifolia [Section 30] is a large colourful shrub radiant with long upright cylindrical gold flower spikes. Nearby Banksia 'Birthday Candles' [Section 30] is a dense dwarf spreading shrub also with gold flower spikes. Almost opposite is Grevillea phanerophlebia [Section 30] a large shrub clad with lacey white flowers while Grevillea dielsiana [Section 30] is a smaller upright shrub showing few of its orange-red pendent flower clusters. A ground cover, Banksia integrifolia subsp. integrifolia [Section 30] reveals its lemon flower spikes above the dense foliage while Banksia spinulosa var. spinulosa [Section 27] displays its two upright gold with red styles flower spikes above its many aged grey spikes.
Crossing the next road Hakea cycloptera [Section 24] has a coverage of pale pink lacey flowers edging its branches. Hakea clavata [Section 26] is a smaller shrub with rounded clusters of pink flowers. Crossing the next road Correa 'Marian's Marvel' [Section 112] is a dense spreading shrub bearing many pendulous pink and lime coloured tubular flowers.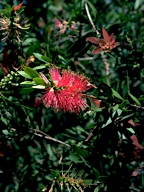 Callistemon polandii - click for larger image
The path then wanders through the Sydney Region Gully welcomed by small plants as Goodenia heterophylla subsp. heterophylla [Section 191H] with bright yellow flowers over the dense prostrate plant, Crowea exalata [Section 191H], here a dwarf plant covered in profusion with pink star flowers and Scaevola ramosissima [Section 191H] yet small with deep purple fan-shaped flowers along its trailing stems. Around the corner Scaevola aemula [Section 191H] is a dense spreading plant with mauve fan-shaped flowers. Later, Senecio velleioides [Section 191E] has bright yellow daisy-like flowers atop upright stems. Epacris pulchella [Section 191U] edging the path, is a small upright plant with stems enveloped with small leaves and tiny pink star-like flowers. Behind the circular seat Crowea saligna [Section 191U] is a dense low-growing shrub clad with large showy pink star shaped flowers.
Crossing the Eucalyptus Lawn to the Rock Garden, Dampiera linearis [Section 15R] is a suckering plant bearing bright blue flowers on upright stems. Correa 'Canes Hybrid' [Section 15S] is a small shrub bearing pink and cream tubular flowers while in front is Thryptomene denticulata [Section 15S] is a low spreading shrub with arching branches clad with tiny pink flowers. In an opposite corner, Bottlebrush, Callistemon polandii [Section 110] is a tall shrub covered in profusion with deep red flowers peppered with yellow stamens.
The Rainforest Gully is a cooling pleasant experience with a variety of green coloured foliage. The ramp then has flowers including Eremophila maculata subsp. maculata [Section 210] showing its bright yellow bugle shaped flowers.
Cooler days, pleasant walking … Barbara Daly.
---
Updated 3 May, 2007 , webmaster, ANBG (anbg-info@anbg.gov.au)
---