---
---
In Flower this Week
A weekly news sheet prepared by a Gardens' volunteer.
Numbers in square brackets [] refer to garden bed Sections. Plants in flower are in bold type.
20 April 2007
Epacris impressa- click for larger image
There don't seem to be many flowers at this time of the year as so many plants are preparing for their spring flowering. This walk however will follow many flowers. Edging Banks Walk and behind the seat, Woollsia pungens [Section 174] is an upright shrub with small white flowers encircling the top of the wiry branches crowded with short sharp leaves. Close by the Victorian floral emblem, Epacris impressa [Section 174] is somewhat similar but with small deep pink tube shaped flowers scattered along its branches. The low arching branches of tiny pink flowers is that of Thryptomene denticulata [Section 174]. In the crescent garden a small shrub, Hibbertia kaputarensis [Section 60] with bright yellow flowers is shared with the short stemmed pink daisies of Brachyscome formosa [Section 60].
Crossing the bridge and in the Ellis Rowan garden Banksia 'Stumpy Gold' [Section 131] is a dwarf spreading shrub bearing many cylindrical upright dull gold flower spikes. Epacris 'Nectar Pink' [Section 131] bears its soft pink tubular flowers along the long wiry branches while opposite, a group of Crowea 'Festival' [Section 240] are dense shrubs bright with lovely pink star flowers. The prostrate Banksia integrifolia var.integrifolia [Section 240] with silver backed leaves and cream flower spikes fills a garden corner while the gold flower spikes of Banksia ericifolia [Section 240,136] are so bright. See, too, at the entrance of the Banksia Building, the very long similar golden flower spikes of Banksia 'Giant Candles' [Section 143].
Return to the Main Path, turning right as marked on the map. Callistemon citrinus [Section 9] is a large shrub still with a scattering of red bottlebrush-like flowers. Across the small path, Callistemon citrinus 'Firebrand' [Section 9] is a much smaller shrub with really bright bottlebrush-like flowers. Continuing along this road there is a 'field' of Helichrysum rutidolepis [Section 29], a really dense groundcover with a profusion of yellow button-size flowers on short upright stems scattered over the foliage.
The walk passes by many interesting banksia species while only few will be mentioned. Notice, though, the leaf shapes and sizes and the variation in the flower spikes. Hairpin banksia, Banksia spinulosa var.collina [Section 28] is a dense shrub with many gold immature flower spikes and edging the small path the silver banksia, Banksia marginata [Section 28] is an upright shrub with yellow flower spikes. (This is theonly indigenous banksia.) Banksia aemula [Section 27] is a large spreading shrub bright with pale green flower spikes and Banksia integrifolia subsp. compar [Section 27] also is large and spreading with many smaller greenish-yellow flower spikes.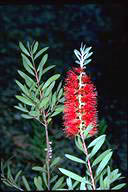 Callistemon citrinus 'Firebrand'- click for larger image
Walking up this road correas include Correa pulchella (variant10) [Section 112] a small upright shrub with pendent red tubular flowers. Correa alba [Section 112] with many pink flowers, crowds the corner. Scaevola aemula [Section 191h] is a prostrate plant with attractive purple fan-shaped flowers along its trailing stems. Goodenia heterophylla subsp heterophylla–montana [Section 191H] is also prostrate with small yellow flowers. Crowea saligna [Section 191h] has a covering of large deep pink star flowers over the medium size shrub. Returning along this road there are many wonders of the Rock Garden to enjoy.
Interesting flowers and pleasant walking … Barbara Daly.
---
Updated 3 May, 2007 , webmaster, ANBG (anbg-info@anbg.gov.au)
---