---
---
In Flower this Week
A weekly news sheet prepared by a Gardens' volunteer.
Numbers in square brackets [] refer to garden bed Sections. Plants in flower are in bold type.
13 April 2007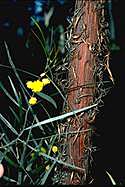 Acacia fauntleroyi - click for larger image
A walk in the Gardens in this glorious autumn weather is a delight and this walk is on the far side of the Rainforest Gully. To start, in the pots outside the Visitors Centre, plants include the dwarf, rather straggly mint bush Prostanthera serpyllifolia var. microphylla with small tubular crimson coloured flowers edging the branches. Along Banks Walk draping over the rock wall, Prostanthera phylicifolia [Section 210] has larger pink flowers mixing with the dense foliage. The crescent garden contains Hibbertia kaputarensis [Section 60] with its strong yellow flowers while opposite the red fluffy flowers of Eucalyptus 'Summer Red' [Section 174] can be seen on the small tree.
Pass by the grass tree, Xanthorrhoea glauca subsp. angustifolia [Section 60] with wavy green skirt and towering blackened flower spike, after the cream flowers, following the road edging the Rainforest. Acacia fauntleroyi [Section 187] is an upright open shrub with fine foliage and a scattering of yellow flower balls. Behind the bollard containing names of many threatened species, Correa lawrenceana var. glandulifera [Section 125] is a large dense shrub with branches prolific with cream tubular flowers, overhang the road. Grevillea 'Goldfever' [Section 124] has orange coloured spider-like flowers on arching branches of this small shrub.
On the far side of the Brittle Gum Lawn Banksia spinulosa var. collina [Section 109] has an abundance of long upright cylindrical juvenile and mature golden flower spikes while, almost opposite, rising above smaller shrubs, Ehretia acuminata [Section 114] stands tall and slim with lateral branches heavy with large clusters of bright orange fruits … some sight! Crossing the Main Path Acronychia imperforata [Section 104] is a tall dense shrub with shiny dark green leaves and tight clusters of lemon-green flowers. Close by the wombat vine, Eustrephus latifolius [Section 104] with orange fruits is densely entwined about a tree trunk.
The triangular garden contains plants including Epacris calvertiana var. calvertiana [Section 17] a wiry plant bearing white tubular flowers. Beside is a Geraldton Wax, Chamelaucium 'Cascade Brook' [Section 17] still with few lovely pink waxy flowers. Behind is Ricinocarpos gloria-medii [Section 17] of medium size with green-grey fine foliage and prominent cream open flowers. A corner of Brachyscome ciliocarpa [Section 17] is a groundcover bearing many short-stemmed mauve daisy-like flowers.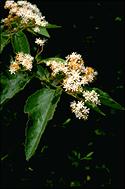 Commersonia fraseri - click for larger image
Crossing the road Crowea 'Festival' [Section123] is dense with pink star-like flowers and Eucryphia wilkiei [Section 123] presents cream cup shaped flowers on a medium size shrub. Opposite, Commersonia fraseri [Section 123] is a suckering tall shrub with dull green velvety leaves and clusters of small cream flowers.
At the next right corner Banksia speciosa [Section 36] has long wandering branches, interesting long narrow deeply serrated leaves and ageing tan coloured flower spikes. Along this path are other banksias including Banksia media [Section 36] a low ageing shrub with lovely yellow flower spikes among the many grey spikes. Towards the covered shelter a corner with Grevillea 'Wakiti Gem' [Section 36] a ground cover with short sharp divided leaves and red toothbrush-like flowers … and bees.
Great day to view our wonderful plants … Barbara Daly.
---
Updated 18 April, 2007 , webmaster, ANBG (anbg-info@anbg.gov.au)
---