---
---
In Flower this Week
A weekly news sheet prepared by a Gardens' volunteer.
Numbers in square brackets [] refer to garden bed Sections. Plants in flower are in bold type.
6 April 2007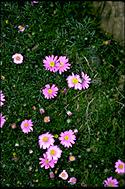 Brachyscome multifida 'Breakoday'- click for larger image
To see a selection of flowers of the mallee species of WA and SA venture up past the Rock Garden to the old nursery site. Notice first, edging Banks Walk, Eucalyptus 'Summer Red' [Section 174] again displaying its lovely red flowers so many destroyed by the hail storm of three weeks ago.
Leptospermum squarrosum [Section 44] continues to bear its open pink peach-blossom flowers crowded around its branches. Walking along the road edging the old nursery site ground covers include the soft grey and green foliages of Chrysocephalum apiculatum [Section 34] with few yellow button flowers, Grevillea lanigera [Section 34] with pink spider flowers and Brachyscome multifida 'Breakoday' [Section 34] with small mauve daisies amid its soft green foliage.
Entering the Mallee Section where an emu bush, Eremophila warnesii [Section 100B], at the corner, has few low branches smothered with grey-green velvety leaves and tipped with purple bugle shaped flower. From the boardwalk in an anticlockwise direction Gastrolobium propinquum [Section 100B] bears small red centred yellow pea-shaped flowers. Like other plants here, Pityrodia teckiana [Section 100B] is also small with large pink tube flowers and Myoporum turbinatum [Section 100B] is a medium upright open plant dotted with tiny pink flowers. Below the branches of Eucalyptus cosmophylla [Section 100A] Hemiandra pungens [Section 100A] is a semiprostrate plant bearing pink lobed flowers. Eremophila bignoniiflora x polyclada [Section 100B] has long rambling branches with large bugle flowers coloured pale mauve with deeper speckled throat. An entanglement of Lechenaultia biloba [Section 100B] presents the last of its pale blue flowers while, later, Thryptomene denticulata [Section 100B] is a low spreading shrub pretty with tiny pink flowers along its lateral branches.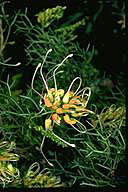 Grevillea dielsiana - click for larger image
At the curve Eremophila oldfieldii subsp. angustifolia [Section 100C] has red tubal flowers along the branches of this upright open shrub, After the curve Banksia epica [Section 100A] is a low spreading dense shrub bearing mustard coloured upright cylindrical flower spikes. Nearby, Banksia ornata [Section 100A] is a larger shrub with lighter shade of flower spikes. The tall tree with trunk clad with grey bark and crowned with cream fluffy flowers is that of Eucalyptus clarksoniana [Section 100A]. Hypocalymma strictum subsp. elongatum [Section 100A] is a neat small shrub with branches clad with small pink fluffy flowers while, in the valley Grevillea dielsiana [Section 100A] is of medium size and is illuminated with pendent orange-red flower clusters. Boronia dichotoma [Section 100A] is yet a tiny shrub with deep pink flowers edging its long stems.
At the exit of the boardwalk Banksia ericifolia var. ericifolia [Section 103] presents its brilliant golden flower spikes. Worth viewing, on an upper level, Auranticarpa rhombifolia [Section 96] is tall and slim exhibiting its large clusters of orange fruits. At the nearby corner, Callistemon salignus [Section 41] is a tall dense shrub magnificent with a crown of new-growth red foliage.
Really is worth the walk … Barbara Daly.
---
Updated 12 April, 2007 , webmaster, ANBG (anbg-info@anbg.gov.au)
---