---
---
In Flower this Week
A weekly news sheet prepared by a Gardens' volunteer.
Numbers in square brackets [] refer to garden bed Sections. Plants in flower are in bold type.
30 March 2007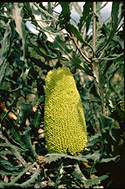 Banksia pilostylis- click for larger image
Cooler days, fresh breeze, bird songs and an assortment of flowers so come and wander along the Main Path commencing at the far end of the Café building. Emu bush, Eremophila bowmanii subsp. bowmanii [Section 302] is quite small and open with green-grey foliage and lilac coloured flowers. Pass by the fascinating grass trees, Xanthorrhoea glauca subsp. glauca [Section 8] renowned by their skirts of long grass-like leaves. Banksia ericifolia var. ericifolia [Section 30], one of many banksias seen along this path, is a large spreading shrub bearing many dull gold slim upright cylindrical flower spikes just maturing to bright gold spikes.
The dwarf Banksia 'Birthday Candles' [Section 30] edging the path spreads its branches well clad with flower spikes with differing ages from young lemon to gold. A prostrate banksia, Banksia integrifolia subsp.integrifolia [Section 30] is dense with long branches of silver backed leaves and many upright lemon flower spikes. This plant is quite eye-catching seen edging the entry to the main gate. Another banksia of interest is Banksia pilostylis [Section 25] a dense rounded shrub with compact yellow flower spikes seen behind a notice board.
Crossing the next road, Grevillea triloba [Section 26] is a shrub of medium size with sharp trilobed leaves and small lacy cream, with a dash of green, perfumed flowers. Banksia penicillata [Section 26] is a large shrub with many old flower spikes containing open or closed seed cases and fresh lime green flower spikes. The path winds among the large mottled white tree trunks and small birds including the blue wren scratch about the leaf litter for delectable morsels. Then across the road where the dwarf Crowea exalata [Section 112] with pink star flowers fills a section corner. Almost opposite Medicosma cunninghamii [Section 112] is a small shrub with dark green leaves and many cream buds opening into interesting white flowers somewhat similar to citrus blossoms. Correa 'Marians Marvel' [Section 112] is a spreading shrub bearing many soft pink and lime coloured bell-like flowers, edging the path.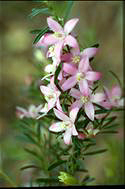 Crowea exalata- click for larger image
Following the path through the Sydney Region Gully, Bursaria spinosa subsp. spinosa [Section 191S] is tall and slim crowned with small white flowers. Scaevola aemula [Section 191H] is a prostrate sprawling plant beautified with light centred mauve fan shaped flowers. Prostanthera porcata [Section 191S] has many cream tube shaped flowers on this shrub. A grouping of Platysace lanceolata [Section 191E] has clusters of small white flowers. At the top of this section behind the seats, ground cover Hibbertia pedunculata [Section 191U] has bright yellow flowers over its dark green foliage and the lovely Crowea saligna [Section 191U] spreads its branches clad with bright pink star flowers.
The path passes through the Eucalyptus Lawn down to the Rock Garden, Thryptomene denticulata [Section 15S] is low with arching branches clad with tiny pink flowers and Eremophila latrobei var. latrobei [Section 15V] presents its lovely cherry coloured tube flowers. Hibbertia scandens [Section 15C] is a dense vine spreading as a groundcover and up shrubs with large yellow flowers. The Rainforest Gully is always so relaxing then down the ramp with its share of flowers.
Good walking… many flowers … Barbara Daly.
---
Updated 27 August, 2008 , webmaster, ANBG (anbg-info@anbg.gov.au)
---