---
---
In Flower this Week
A weekly news sheet prepared by a Gardens' volunteer.
Numbers in square brackets [] refer to garden bed Sections. Plants in flower are in bold type.
23 March 2007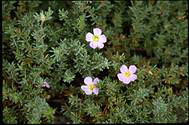 Frankenia pauciflora - click for larger image
After admiring the colourful floral display in the pots outside the Visitors Centre venture up to the Rock Garden. This section is interesting to view plants in flower or not in flower.
Starting at the base of the water fall continue in a clockwise direction where the Gymea Lily, Doryanthes excelsa [Section 15C] with large strappy leaves and flower buds on very long stems and where the large yellow flowers of a vine of Hibbertia scandens [Section 15C] climb over nearby shrubs. Climbing the stairs past the semi-prostrate Banksia integrifolia subsp. integrifolia [Section 15C] with silver backed leaves and many upright cylindrical lemon flower spikes, which is invading the path space, a dwarf Banksia 'Honeypots' [Section 15] with lovely honey coloured flower spikes is shielded by a dense Correa 'Ivory Bells' [Section 15D] displaying its small pendent tubular flowers. Snug against rocks, Hypocalymma xanthopetalum [Section 15F] is a small woody shrub beautified with tiny yellow flowers along the stems. Around the corner Lomandra leucocephala subsp. robusta [Section 15F] is a small tufted plant showing off its rounded clusters of woolly cream flowers surrounding the stems among the grass like leaves.
Opposite, falling over the rocks, Frankenia pauciflora [Section 15G] is a dense prostrate plant speckled with tiny pink flowers. Halgania cyanea [Section 15G] is a dwarf plant with deep blue flowers.
See Allocasuarina robusta [Section 15A] a dense erect shrub densely clad with soft needle-like foliage with similar foliage of 'male' flowers of a rust colour. Leptorhynchos nitidulus [Section 15G] is another dense groundcover prolific with small yellow button- like flowers. At the base of the stairs edging this garden, Brachyscome nova-anglica [Section15A] is a soft mounding plant with pink daisy-like flowers mixing with the soft foliage.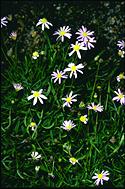 Brachyscome angustifolia var. heterophylla- click for larger image
Edging the top road Rulingia hermanniifolia [Section 15A] is a low spreading shrub with tiny pinkish flowers mixing with the dark wrinkled leaves. The opposite corner is clad with Grevillea lanigera [Section 15H] with pink and white spider flowers scattered over this prostrate plant. Along this road is Scaevola albida var. albida [Section 15H] with white fan-shaped flowers over the low shrub. Nearby is Dampiera sylvestris [Section 15H] with rich blue flowers on upright stems of this suckering plant.
Turning down on the path between the Grass trees, Xanthorrhoea johnsonii [Section 14] to see the small herb, Isotoma axillaris [Section 15P] which reveals its blue star flowers. Towards the stairs a semi prostrate herb, Brachyscome angustifolia var. heterophylla [Section 15P] is dense with tiny mauve flowers. At the lower corner Prostanthera densa [Section 15S] has small pink tubular flowers covering this small shrub while in the small bed at the base of the waterfall, Banksia 'Birthday Candles' [Section 15V] is a dwarf shrub with many yet juvenile cream coloured flower spikes. Behind the notice board a prostrate plant, Dampiera salahae [Section 15D] is adorned with blue flowers along its branches.
Many flowers … many birds … Barbara Daly.
---
Updated 27 August, 2008 , webmaster, ANBG (anbg-info@anbg.gov.au)
---