---
---
In Flower this Week
A weekly news sheet prepared by a Gardens' volunteer.
Numbers in square brackets [] refer to garden bed Sections. Plants in flower are in bold type.
16 March 2007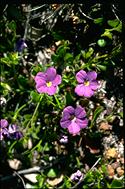 Scaevola calliptera- click for larger image
Worth viewing are the embroidered botanical studies created by Lynne Stone, seen in the Visitors Centre. Outside the doors of this Centre, pots contain such flowers as Scaevola calliptera, so striking with its large purple flowers on long flowing stems and Scaevola brookeana with smaller flowers coloured pale blue. Prostanthera serpyllifolia var.microphylla has upright stems, with rather compressed tubular red flowers.
Flowers in the Gardens were quite damaged … but will recover … and this walk will continue to the north side of the Sydney Basin where damage is less acute. Edging Banks Walk the grey foliage falling down the rock wall with cherry red tubular flowers is that of Emu Bush, Eremophila glabra [Section 210]. Also cascading down the rock wall is a Mint Bush, Prostanthera phylicifolia [Section 210], dense with mauve flowers. Ascending the stairs just past the Main Path, Brush Cherry, Syzygium australe [Section 313] is a small tree, with bunches of crimson fruits resembling cherries and still a few white fluffy flowers among the dense foliage.
Returning downstairs follow the marked map past ground covers Grevillea 'Poorinda Royal Mantle' [Section 124] so dense with some undamaged red toothbrush-like flowers and Scaevola albida [Section 124] with small mauve fan flowers scattered over the spreading plant. Cross over to the Main Path past the grass trees, Xanthorrhoea glaucasubsp. glauca [Section 8] with dense flowing skirts to the Coast Banksia, Banksia integrifolia [Section 30] with many creamy green upright flower spikes rising above the prostrate plant with silver based foliage. These banksias line the road leading to the Gardens gates. Taking the lower path to a field of Helichrysum rutidolepis [Section 29] with not quite flattened foliage and upright stems with button size yellow flowers, are many banksias including Swamp Banksia, Banksia robur [Section 28] with large leathery leaves and ageing cream flower spikes. A bottle green flower spike can be seen on the shrub with leaves with purplish veins. There is Banksia spinulosa var.cunninghamii [Section 28], the Silver banksia, Banksia marginata [Section 28] and edging the bottom road are other banksias, mostly with yet, slim juvenile flower spikes.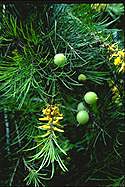 Persoonia pinifolia-click for larger image
From the narrow curvaceous path on the far side of the Sydney Basin the Blackthorn, Bursaria spinosa [Section 191s] with white flowers on top of the tall shrubs, can be seen across Gully while, edging the path, Crowea exalata [Section 191k] with dainty pink petalled flowers and Epacris longiflora [Section 191f] with slim red with white mouth, tubular flowers along long stems appear frequently. Banksia ericifolia [Section 191k] has gold flower spikes on medium size shrub while a Geebung, Persoonia pinifolia [Section191k] is a tall spreading shrub with small clusters of yellow flowers on pendulous branches.
The gully is home for many tree ferns as Dicksonia antarctica [Section 191] splendid with their long arching fronds. Behind the seat, Crowea saligna [Section 191f] shows off its bright pink flowers and later Baeckea linifolia [Section 191j] is an open shrub with tiny flowers dotted along the pendulous branches. This path is among the shrubs and tall trees and is so refreshing… return can be via the Eucalyptus Lawn or continue over the road to the top of the gully…
Always so many flowers to see … Barbara Daly.
---
Updated 27 August, 2008 , webmaster, ANBG (anbg-info@anbg.gov.au)
---