---
---
In Flower this Week
A weekly news sheet prepared by a Gardens' volunteer.
Numbers in square brackets [] refer to garden bed Sections. Plants in flower are in bold type.
9 March 2007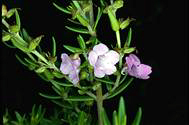 Prostanthera phylicifolia - click for larger image
This walk is for Seniors Week commencing 10 March. However the violent storm of wind rain and hail last week was not kind to these gardens resulting in damage to a high percentage of flowers. Before walking out to enjoy what we still have, marvel at the embroidered botanical studies created by Lynne Stone, seen in the Visitors Centre. The plants in pots outside the Visitors Centre doors include Rhododendron lochiae noticeable with its bright orange-red bell shaped flowers.
Edging Banks Walk Eucalyptus 'Summer Beauty' [Section 174] has pink flower clusters on a small tree. Opposite, Prostanthera phylicifolia [Section 210] has small mauve flowers over the dense green foliage falling over the rock wall while rounding the corner Crowea 'Festival' [Section 174] continues to bear bright pink star flowers over its spreading upright shrub. Opposite, Hibbertia kaputarensis [Section 60] in the crescent garden is a dwarf spreading plant with sunny yellow petalled flowers.
Opposite the stairs to the café, edging the Rainforest Gully, see the Conjevoi Lily, Alocasia macrorrhizos [Section 125] with very large spade shaped leaves (before being shredded by hail) and arum lily- like creamish green flowers seen on top of long upright fleshy stems.
The next section of flowers are mostly in the Ellis Rowan Garden past the café. Correa 'Dusky Bells' [Section 131] is a small open shrub with pendent deep pink tube shaped flowers while beside is Banksia 'Stumpy Gold'[Section 131] a dense dwarf shrub with dull gold pencil thin juvenile flower spikes. Grevillea rhyolitica 'Deua Flame' [Section 131] is a taller shrub still with few undamaged open clusters of red flowers.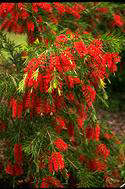 Callistemon viminalis- click for larger image
Across the path a bottlebrush, Callistemon 'Splendens' [Section 240] has a scattering of red bottlebrush-like flowers, while beside, Crowea 'Cooper's Hybrid' [Section 240] is quite dense and well covered with starry pink flowers. Down this path towards the Crosbie Morrison Building see the very long dull gold flower spikes of Banksia 'Giant Candles' [Section 311] on this fairly open large shrub. Compare them with the shorter flower spikes of Banksia ericifolia var. ericifolia [Section 239]. Grevillea diminuta [Section 239] is dense and spreading with rust red strands of pendulous flowers.
In the opposite corner to the offices Callistemon viminalis [Section 310] is large and spreading with interesting deeply grooved trunks and with willowy branches terminating with short red bottlebrush flowers. Following the Main Path to the next crossing, another bottlebrush, Callistemon chisholmii [Section10] is seen with arching branches of much smaller pale pink, fading to white bottlebrush flowers.
Another section well endowed with less damaged flowers is a small triangular garden opposite the Rainforest Gully. It contains Kangaroo Paws, Anigozanthos 'Bush Noon' [Section 17] with strappy leaves and 'paw' flowers in shades of yellow and Anigozanthos 'Bush Ruby' [Section 17] with ruby coloured flowers. Almost concealed by these plants is Dampiera linearis [Section 17] a dwarf plant with bright blue flowers. Chamelaucium 'Cascade Brook' [Section 17] is upright and open with a scattering of pink open flowers.
The Rainforest Gully is a cool pleasant experience leading to the ramp where few other flowers including another pretty Eucalyptus 'Summer Beauty' [Section 210] well clad with its pink frilly flowers and Banksia 'Birthday Candles' [Section 210] with a mix of juvenile and maturing dull gold flower spikes can be seen.
An enjoyable walk … Barbara Daly.
---
Updated 27 August, 2008 , webmaster, ANBG (anbg-info@anbg.gov.au)
---