---
---
In Flower this Week
A weekly news sheet prepared by a Gardens' volunteer.
Numbers in square brackets [] refer to garden bed Sections. Plants in flower are in bold type.
2 March 2007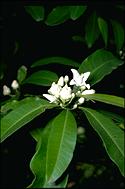 Medicosma cunninghamii - click for larger image
So enjoyable is the rain, the fresh breeze, the bird songs and an assortment of flowers so come and wander along the Main Path starting at the far end of the café building. But first see the soft pink flower clusters of Eucalyptus 'Summer Beauty' [Section 174] beside Banks Walk.
Callistemon subulatus [Section 12] is a small compact shrub bearing red bottlebrush flowers while Callistemon chisholmii [Section 11, 10] is a taller graceful shrub with slimmer pink flowers on arching branches. Down this side path the very large shrub of red bottlebrush flowers is that of Callistemon citrinus [Section 9].
Continuing along the Main Path Banksia ericifolia var. ericifolia [Section 30] is showing its juvenile pencil thin flower spikes coloured green to gold. A prostrate Grevillea sp. [Section 30] with branches of red toothbrush-like flowers creeps towards the path while Grevillea 'Coconut Ice' [Section 30] has terminal reddish flower spikes overlooking other shrubs. Over the next road Grevillea triloba [Section 26] with fine sharp leaves has few small clusters of pleasantly perfumed white flowers. Behind the seat, native Wandering Jew, Commelina cyanea [Section 24] has lovely blue three-petalled flowers over this prostrate herb. Further on, a patch of Geebungs, Persoonia acerosa [Section 24] shrubs of medium size with bright green foliage and prolific with tiny tubular yellow flowers.
Across the next intersection, Crowea exalata [Section 112] has a profusion of pink star flowers over this dense upright shrub while, over the small path a dwarf form of this shrub is also so colourful. Almost opposite a Bonewood, Medicosma cunninghamii [Section 112] is yet a small shrub with dark green leaves and white flowers, similar to those of citrus blossoms.
Follow the path weaving through the Sydney Region Gully. At the base of the medium sized Platylobium formosum [Section 191h] bright with yellow pea flowers, Goodenia heterophylla subsp. heterophylla-montana [Section 191h] is a prostrate plant yellow with small flowers and Scaevola aemula [Section 191h], also prostrate, has mauve fan shaped flowers along the trailing stems. Opposite, a mint bush, Prostanthera porcata [Section 191s] is a neat smallish shrub decorated with pink curved tubular flowers. Almost opposite the 'look down' as a backdrop, a Red Bloodwood, Eucalyptus gummifera [Section 191p] is quite stunning with large clusters of white feathery flowers over this medium size tree. At the top of this path, Crowea saligna [Section 191u] seen behind the seat, has brilliant pink star flowers over this attractive shrub.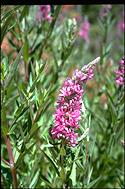 Lythrum salicaria - click for larger image
Crossing over the Eucalyptus Lawn where small Superb Blue Wrens dance over the grass and Crimson Rosellas snooze on branches above, down to the Rock Garden with many paths and plants to enjoy. Edging the path Scaevola phlebopetala [Section 15r] is a prostrate herb with yellow centred deep purple fan shaped flowers along its trailing stems complemented with the blue flowers of the suckering, almost prostrate Dampiera stricta [Section 15r]. The small garden in front of the waterfall contains emu bushes including Eremophila latrobei [Section 15v] small and erect with rich pink tubular flowers. Closer to the water Lythrum salicaria [Section 15q] continues to be bright with terminal spikes of pink flowers on the upright plant.
A wander through the Rainforest Gully, so cool, so green and so out to the ramp, complete with flowers including, again, the lovely Eucalyptus 'Summer Beauty' [Section 210] so picturesque, so pink.
Pleasant walking … much to admire … Barbara Daly.
---
Updated 27 August, 2008 , webmaster, ANBG (anbg-info@anbg.gov.au)
---