---
---
In Flower this Week
A weekly news sheet prepared by a Gardens' volunteer.
Numbers in square brackets [] refer to garden bed Sections. Plants in flower are in bold type.
23 February 2007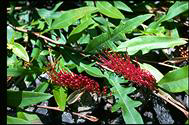 Grevillea 'Poorinda Royal Mantle' - click for larger image
There is now a feast of flowers in the Rock Garden. So this walk starts at the base of the waterfall in an anticlockwise direction. Lythrum salicaria [Section 15Q] adds a glow of pink from flowers on long upright stems about the waterfall and pools. The small plot in front has the dwarf Banksia 'Birthday Candles' [Section 15V] as yet with many juvenile green spikes protruding above the dense foliage. Emubush, Eremophila christopheri [Section 15V] has mauve bugle shaped flowers over a small shrub while, cascading down the rock face Grevillea 'Poorinda Royal Mantle' [Section 15D] is dense with red toothbrush-like flowers mingling with the foliage.
Edging the ascending footpath a grouping of Goodenia humilis [Section 15R] is a dwarf herb with yellow flowers rising above rosettes of leaves. The ground-cover, suckering Pilliga daisy, Brachyscome formosa [Section 15R] with pink daisies is spreading well. Hemigenia eutaxioides [Section 15R], as a backdrop, is a low spreading shrub with fine foliage and small pink tubular flowers. Behind is Keraudrenia hermanniifolia [Section 15R] a taller shrub with crinkly leaves and bluish-mauve flowers.
From the top road Artanema fimbriatum [Section 15J] is a small plant with narrow leaves and bears lovely blue, white streaked bugle shaped flowers. Dampiera sylvestris [Section 15H] is a suckering plant with rich blue flowers on upright stems. Close by Scaevola albida var. albida [Section 15H] displays its white fan-shaped flowers over the low dense shrub. Kangaroo Paw, Anigozanthos flavidus [Section 15H] although fading, continues to show its burnt red flowers above long bare stems. The Blue Grass Lily, Agrostocrinum scabrum [Section 15H] is a small tufted plant with grass-like leaves and vivid blue many petalled flowers on long slender stems. These flowers last for a day but are produced for a long period. At the corner a large ageing Geebung, Persoonia linearis x pinifolia [Section 15H] with soft pine-like foliage edging the somewhat pendulous branches terminate with yellow flower spikes and Grevillea 'Mason's Hybrid' [Section 15H], also a large spreading shrub, displays its many lovely large terminal red-yellow flower spikes.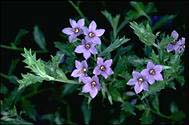 Halgania cyanea- click for larger image
Down the stairs and around the corner Goodenia macmillanii [Section 15G] thrives below the rock shelf, bright with pink flowers along its trailing stems. Above, Commersonia sp. [Section 15G] is a dainty small shrub with a scattering of pink open flowers. Halgania cyanea [Section 15G] shows off its deep blue flowers over a small shrub while the bright purple flowers seen belong to Solanum sturtianum [Section 15G]. Frankenia pauciflora [Section 15G] is a dense prostrate plant profuse with tiny pink flowers as it falls down the rocks. Isotoma axillaris [Section 15G] a perennial herb which self-seeds about the Rock Garden adds its colour with blue star flowers to this area.
Garland Lily, Calostemma purpureum [Section 15F,15B] has heads of many wine-red trumpet shaped flowers on bare upright stems. Pityrodia teckiana [Section 15B] is another dwarf shrub with many pink-white bugle shaped flowers. At the base of the stairs Scaevola aemula [Section 15C] is a prostrate spreading plant displaying its cream centred mauve fan-shaped flowers.
That's some feast of flowers! Barbara Daly.
---
Updated 27 August, 2008 , webmaster, ANBG (anbg-info@anbg.gov.au)
---