---
---
In Flower this Week
A weekly news sheet prepared by a Gardens' volunteer.
Numbers in square brackets [] refer to garden bed Sections. Plants in flower are in bold type.
9 February 2007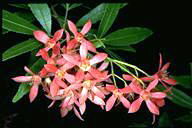 Ceratopetalum gummiferum - click for larger image
Edging Banks Walk Old Man Banksia, Banksia serrata [Section 174] has many large grey-yellow flower spikes decorating the tall shrubs behind Sir Joseph Banks statue. Kangaroo Paws include Anigozanthos 'Bush Gold' [Section 174, 210] with gold and pale green 'paw' flowers persist but maybe losing their vivid colours. Just this side of the waterfall a Pokolbin Mallee, Eucalyptus pumila [Section 210] with multi-trunks have branches clad with large clusters of white flowers reach above the path while, around the lower corner Eucalyptus ficifolia 'Wildfire' [Section 174] continues to display its bright cherry-red flower clusters.
To view the NSW Christmas Bush, Ceratopetalum gummiferum [Section 142] a tall shrub with a profusion of its lovely salmon-red calyces which followed the white flowers, seen close to the entry to the Tasmanian section.
The walk will follow flowers seen edging the gardens around the Eucalyptus Lawn. To get there follow the Main Path turning down to view an extended ground cover of Helichrysum rutidolepis [Section 29] with yellow button flowers over the dense green foliage. Around the corner is the mallee, Eucalyptus pumila [Section 29] earlier mentioned. However this small tree is easier to view. Banksia robur [Section 28] one shrub with green leathery leaves has juvenile brown-green flower spikes while another shrub with purple veined leaves shows off its vivid green mature flower spike.
Start at this colourful corner of the Sydney Basin opposite the Eucalyptus Lawn. Scaevola ramosissima [Section 191H] is a prostrate plant bearing deep purple fan-shaped flowers along its wiry stems. Scaevola aemula [Section 191H] seen edging the road is also prostrate with upright stems and mauve-blue fan shaped flowers. The Native Bluebell Wahlenbergia stricta [Section 191H] is a small upright herb with blue double-flowers. Flannel Flower Actinotus helianthi 'Federation Stars' [Section 191H] has lovely white daisy-like velvety flowers rising above the dense silver-grey foliage while behind, the larger shrub Grevillea rhyolitica subsp. rhyolitica [Section 191H] dangles its terminal orange-red flower clusters amid the fresh green foliage.
Continuing up this road many banksias are producing juvenile pencil thin flower spikes. They include Banksia spinulosa var.cunninghamii [Section 191G] profuse with long slim yellowish juvenile flower spikes and Banksia aemula [Section 191L] a large old shrub with mature squat grey-lemon flower spikes. Geebung, Persoonia acerosa [Section 191L] is a small dense shrub with soft fine foliage speckled with tiny yellow tube flowers towards the branch terminals.
Acacia uncinata - click for larger image
Crossing the road and edging the Eucalyptus Lawn Hibbertia pedunculata [Section 44] is a dense prostrate plant bright with yellow flowers. A wattle, Acacia linifolia [Section 44] is an open shrub with few arching branches clad with short fine foliage and terminal heads of cream perfumed fluffy flower balls. Grevillea sphacelata [Section 44] has small terminal clusters of grey-pink flowers, seen among other shrubs.
Another wattle, Acacia uncinata [Section 44] is another small open shrub with short stubby foliage shared with bright golden flower balls. Encircling this section and edging the former nursery, the Darling Pea, Swainsona galegifolia [Section 69] is a mass of arching branches with divided leaves and sprays of pink pea-flowers.
Returning and opposite the Rock Garden, Angophora melanoxylon [Section 4] is a neat small tree crowned with large clusters of white flowers.
Pleasant walking with a background of many bird calls … Barbara Daly.
---
Updated 27 August, 2008 , webmaster, ANBG (anbg-info@anbg.gov.au)
---