---
---
In Flower this Week
A weekly news sheet prepared by a Gardens' volunteer.
Numbers in square brackets [] refer to garden bed Sections. Plants in flower are in bold type.
2 February 2007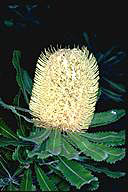 Banksia serrata - click for larger image
This walk follows the Main Path commencing at the far end of the café building. Because of the continuous high temperatures some plants may be dehydrated. Regardless there are many flowers to enjoy. But firstly gaze at the bright salmon coloured flowers of Rhododendron lochiae in a pot outside the Visitors Centre doors. Also view the large grey-yellow flower spikes on Old Man Banksia, Banksia serrata [Section 174] grouped behind Sir Joseph Banks statue along Banks Walk.
An emu bush, Eremophila calorhabdos [Section 302] is a small erect shrub with branches enveloped with short leaves and bright with magenta coloured flowers. A Blue Devil, Eryngium rostratum [Section 8] is a low-growing herb with long stiff bare branches of metallic blue prickly flower heads. In the opposite garden of daisies Chrysocephalum apiculatum [Section 303] has small yellow flower heads above the green, or grey, foliage of the dense prostrate suckering herb.
Grevillea acanthifolia subsp. acanthifolia [Section 27] is a neat shrub with spreading branches clad with prickly divided leaves and long-flowering pink toothbrush-like flowers. Crossing the road a group of Geebungs, Persoonia acerosa [Section 24] display their small tube shaped flowers over the dense foliage. Along this path other grevilleas include Grevillea triloba [Section 26], of medium size with trilobed sharp leaves and small balls of perfumed cream flowers and Grevillea tripartita subsp. macrostylis [Section 24] also of medium size with prickly leaves and red flowers with a tip of yellow and a very long curved red style.
Bird life is plentiful today, from the large yellow tailed black cockatoos flying overhead to the small superb blue wrens springing over the leaf litter below the trees. Then, crossing the road where a group of dwarf Crowea exalata [Section 112] is prolific with pink star flowers. The path then wanders through the Sydney Region Gully where Prostanthera porcata [Section 191S] has a scattering of pink curved tubular flowers over the small upright shrub while opposite Goodenia heterophylla subsp. heterophylla-montana [Section 191H] is bright with small yellow flowers over the prostrate plant. Flannel Flower Actinotus helianthi 'Federation Stars' [Section 191H] with velvety silver-grey foliage displays its white daisy-like flannel flowers. Scaevola aemula [Section 191H] has purple fan-shaped flowers along its trailing stems while further along Hibbertia pedunculata [Section 191G] is a mounded plant profuse with yellow flowers, bright against the dark green foliage. A corner of Platysace lanceolata [Section 191E] is dense with white globular flower heads. Opposite, Senecio velleioides [Section 191D] is a slim upright plant with heads of bright yellow daisy-like flowers.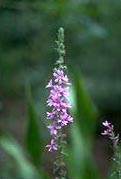 Lythrum salicare - click for larger image
Continue through the Eucalyptus Lawn down to the Rock Garden. A small tree, Angophora melanoxylon [Section 4] bears many clusters of white flowers while the suckering plant, Dampiera linearis [Section 15R] has bright blue flowers and in front of the waterfall, Lythrum salicare [Section 15Q] has terminal spikes of pink flowers on the upright plant. There are many flowering plants to find in the Rock Garden. Continue then to the Rainforest Gully so green, so cool. A Dorrego waratah, Alloxylon pinnatum [Section 148] with loose waratah flowers continue to bloom on top of the tree seen where the stairs descend to the base of the gully. Then down the ramp where flowers never stop.
Always a pleasant walk … Barbara Daly.
---
Updated 27 August, 2008 , webmaster, ANBG (anbg-info@anbg.gov.au)
---