---
---
In Flower this Week
A weekly news sheet prepared by a Gardens' volunteer.
Numbers in square brackets [] refer to garden bed Sections. Plants in flower are in bold type.
19 January 2007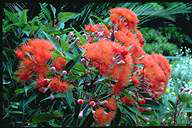 Eucalyptus ficifolia - click for larger image
Regardless of the searing heat which affects many flowers, many thanks to the team of energetic caring horticultural staff who maintains healthy and happy flowers throughout the year. This walk aims to finish on the far side of the Sydney Region Gully, selecting numerous plants en route.
In a pot outside the Information Centre doors Rhododendron lochiae is bright with its lovely salmon coloured bell shaped flowers. Edging Banks Walk are a mix of kangaroo paws including the yellows of Anigozanthos 'Bush Dawn' [Sections 210,174] and the reds of Anigozanthos 'Bush Ruby' [Section 210,174]. Small plants include Lechenaultia biloba [Section 174] clad with powder blue flowers and Pelargonium rodneyanum [Section 174] a low trailing dense plant bright with magenta coloured 'geranium like' flowers.
Most spectacular though are the small trees, Eucalyptus ficifolia [Sections 210, 174] so picturesque with their large clusters of red fluffy flowers. Eucalyptus 'Wildfire' [Section 174] seen from the lower path, has many buds just exploding to its own shade of red flowers. Close by is a Garland Lily, Calostemma purpureum [Section 174] with short upright stems with heads of pink tubular flowers. Opposite, Hibbertia kaputarensis [Section 174] is a dense ground cover bright with yellow flowers.
Below the car park towards the Tasmanian section, a NSW Christmas Bush, Ceratopetalum gummiferum [Section 142] is tall and slim now bearing its renowned red swollen calyces which followed the tiny white flowers. A better view is had by following the lower left path to the second bridge where the red flowering trees are pictured behind the pool. The lower pool is surrounded by Lythrum salicaria [Sections 223 and others] with tall upright terminal stems of pink flowers, and many a Water Dragon, from tiny juveniles to large adults sleeping on the rocks or just scurrying about.
Returning to the end of the Café building, continue along the Main Path viewing emu bushes which include Eremophila calorhabdos [Section 302] with upright stems of cherry red tubular flowers and Eremophila ternifolia [Section 302] a low shrub with lateral branches of tiny blue flowers.
See the Blue Devil, Eryngium rostratum [Section 8] with bare stems holding heads of prickly blue flowers in the garden of grasses. Then venture down to where Swamp Banksia, Banksia robur [Section 28] with large leathery leaves or with pink veined leaves, have bottle green flower spikes mixing with ageing lemon or chocolate coloured spikes. Opposite is a field with dense Helichrysum rutidolepis [Section 29] so dense with upright stems of yellow button-like flowers.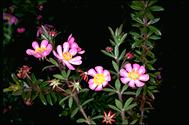 Bauera rubioides - click for larger image

Take any path to the Sydney Basin taking the small path which winds through cooler tree-covered growth, on the far side of the gully. A Rice bush, Ozothamnus sp. [Section 191F] is clad with clusters packed with white flowers, Crowea exalata [Section 191K and elsewhere] has bright pink star flowers, Epacris longiflora [Section 191F] has an entanglement of stems so bright with pendulous tubular flowers so red with white mouth. Then, just before some descending stairs, another NSW Christmas Bush, Ceratopetalum gummiferum 'Summer Snow' [Section 191K] is well covered with white swollen calyces.

Later, a River Rose, Bauera rubioides [Section 191D] is dense with pink rose-like small down-turned flowers. A Christmas Bell, Blandfordia grandiflora [Section 191C] has a bare flower spike with large bell-like red with yellow flowers along the continuing path and at the end of the path where smaller Blandfordia grandiflora [Section 191U] plants can be seen.

Days are hot but flowers so interesting … Barbara Daly.
---
Updated 27 August, 2008 , webmaster, ANBG (anbg-info@anbg.gov.au)
---