---
---
In Flower this Week
A weekly news sheet prepared by a Gardens' volunteer.
Numbers in square brackets [] refer to garden bed Sections. Plants in flower are in bold type.
12 January 2007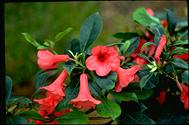 Rhododendron lochiae - click for larger image
Did you know that SUMMER CONCERTS ARE HELD HERE EACH WEEK END IN JANUARY?
Rhododendron lochiae in a pot outside the Information Centre is so colourful with its bright salmon coloured bell shaped flowers. So are the varieties of colours of the kangaroo paws, Anigozanthos sp. which edge Banks Walk. But this walk is about the Rock Garden, also with an abundance of flowers.
Starting at the base of the waterfall pictured with the many pink flowers tipping the long stems of Lythrum salicaria [Section 15Q and elsewhere], an emubush, Eremophila christopheri [Section 15V] with mauve bugle shaped flowers over a small shrub and flowing down the rock face, Grevillea 'Poorinda Royal Mantle' [Section 15D] with red toothbrush shaped flowers decorating the dense foliage.
In a clockwise direction, crowded between the path and rockface, Hibbertia pedunculata [Section 15D] with dark foliage is brightened with yellow flowers. A Grass Tree, Xanthorrhoea macronema [Section 15D] is a tufted plant with low fine arching foliage surrounding upright spikes bearing cream cylindrical flower heads which mingle with the spent dark flowers. Edging the path the clusters of tiny bright yellow and orange flower heads with green foliage are Chrysocephalum semiamplexicaule [Section 15D]. Nearby, on erect stems the large white flower-heads with long pink stamens are Crinum angustifolium [Section 15D]. Close to the stream Ptilotus obovatus 'Cobtus' [Section 15D] has green-grey foliage and grey, with a tint of pink, woolly ovoid flower heads.
Crossing the path the bank ahead is colourful with flowers including the pale blue star flowers of Isotoma axillaris [Section 15G], Halgania cyanea [Section 15G], a dwarf plant with deep blue flowers and Frankenia pauciflora [Section 15G] a prostrate plant speckled with tiny pink flowers. Verticordia mitchelliana [Section 15G] is there too, with vivid red flowers over the small shrub. Close by Grevillea juncifolia [Section 15G] is an attractive upright shrub decorated with cylindrical cream flower spikes
At the top of the stairs the grand old Grevillea 'Mason's Hybrid' [Section 15H] stretches its long branches bearing its large terminal reddish flower spikes above the path. With it is a Geebung, Persoonia linearis x pinifolia [Section 15H], with soft pine-like foliage and terminal yellow flower sprays, all dangling from its large spreading branches. In front, a grouping of a kangaroo-paw, Anigozanthos flavidus [Section 15H] with upright stems of burnt red flowers, and honeyeaters enjoying the nectar of all three plants.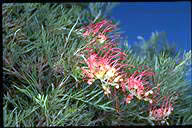 Grevillea 'Mason's Hybrid' - click for larger image
Edging the top road plants include the Scaevola albida var. albida [Section 15H] with white fan-shaped flowers over a low spreading shrub and Dampiera sylvestris [Section 15H] a suckering plant with blue flowers on low upright stems.
Turning down at the corner of Grass trees, Xanthorrhoea johnsonii [Section 14] to another colourful corner which includes the tiny mounded plant, Goodenia humilis [Section 15R] profuse with bright yellow flowers and the low spreading Brachyscome 'Strawberry Mousse' [Section 15R] bearing pink daisy-like flowers. Along the path downwards, Brachyscome angustifolia var. heterophylla [Section 15P] is a dense ground-cover with tiny mauve daisy-like flowers. Nearby, Stenocarpus angustifolius [Section 15P] is upright and rounded with a profusion of tiny curvaceous yellow flowers, in clusters over the shrub. Lasiopetalum [Section 15R] is low an dense with hairy growth and downturned pink flowers. At the low corner Ptilotus macrocephalus [Section 15S] shows off its bare stems with heads of globular green-cream soft woolly flower heads.
Some place, these Rock Gardens … Barbara Daly.
---
Updated 27 August, 2008 , webmaster, ANBG (anbg-info@anbg.gov.au)
---