---
---
In Flower this Week
A weekly news sheet prepared by a Gardens' volunteer.
Numbers in square brackets [] refer to garden bed Sections. Plants in flower are in bold type.
5 January 2007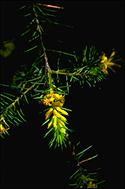 Persoonia acerosa - click for larger image
On this lovely cool day of the New Year, come and enjoy the flowers edging the Main Path. Kangaroo Paws, Anigozanthos sp. with a range of colours hop up in many sections and so do a variety of other flowers.
Commencing at the far end of the Café building Leptospermum polyanthum [Section 12] is a tall graceful shrub with long branches clad with tiny white flowers. The bed of emu bushes includes Eremophila calorhabdos [Section 302], a small erect shrub with leaves crowding the branches bright with magenta coloured bugle shaped flowers. Opposite the section of yellow daisies the Blue Devil, Eryngium rostratum [Section 8] has metallic blue prickly flower heads on stiff branches of this low- growing herb. A bed of colourful kangaroo paws include Anigozanthos flavidus [Section 8] which includes the 'paw' shaped matt green flowers. Stenocarpus angustifolius [Section 30] is clad with tiny curvaceous yellow flowers mixing with its fine foliage in clusters over the shrub. Almost opposite Grevillea 'Coconut Ice' [Section 30] is small and spreading with large terminal shades of red flower sprays.
Pass through an area containing numerous grevilleas, crossing the road where Geebungs, Persoonia acerosa [Section 24], in a group is yellow with tiny tubular flowers. In front Grevillea 'Poorinda Adorning' [Section 24] bright with red spider flowers over the small spreading plants, edge the path. Across the next road, Crowea exalata [Section 112] is a prostrate plant bright with pink star flowers.
Entering the Sydney Region Gully where Platysace lanceolata [Section 191S, 191D] has rounded clusters of tiny white flowers over a neat medium shrub with Bursaria spinosa [Section 191S] behind and elsewhere, taller plants with terminal sprays of white flowers.
Opposite, Goodenia heterophyla subsp. heterophyla-montana [Section 191H] is a rounded prostrate plant clad with tiny yellow flowers. Flannel flowers, Actinotus helianthi 'Federation Stars' [Section 191H], also seen along this path, has velvety silver-grey foliage mixing with the white daisy-like flannel flowers. Scaevola aemula [Section 191H] has purple fan-shaped flowers along its trailing stems. At the look-down follow the narrow path across the gully to the other side where a white flowering Christmas Bush, Ceratopetalum gummiferum 'White Christmas' [Section 191K] stands tall, well covered with its waxy cream calyces which followed its tiny white flowers. From the original path Xyris gracilis [Sections 191P, 191G], dwarf herbaceous plants, have slim upright grassy foliage with yellow three-petalled flowers on upright stems. Christmas Bells, Blandfordia grandiflora [Section 191U] continue to show its lovely large red with yellow mouth bells pendent on upright stems.
Follow the path through the Eucalyptus Lawn to the Rock Garden where Lythrum salicaria [Section 15Q] in front of the waterfall, is an upright plant with terminal spikes of pink flowers. Then continue to the Rainforest Gully, so fresh and cool, greeted by Dendrobium speciosum [Section 104] on the rocks with a long cream spray of orchids. The Dorrego waratah, Alloxylon pinnatum [Section 148] with loose waratah flowers on top of the tall slim tree, seen where the stairs descend to the base of the gully. Then leaving this section, Rhododendron lochiae [Section 210] can be seen with its salmon coloured bell shaped flowers on a low shrub leading up to the nearby stairs. The ramp too, has flowers to enjoy.
Have a happy and healthy New Year … Barbara Daly.
---
Updated 27 August, 2008 , webmaster, ANBG (anbg-info@anbg.gov.au)
---