---
---
In Flower this Week
A weekly news sheet prepared by a Gardens' volunteer.
Numbers in square brackets [] refer to garden bed Sections. Plants in flower are in bold type.
24 November 2006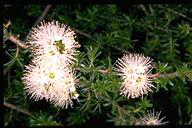 Kunzea ambigua - click for larger image
Bottlebrushes and tea-trees are flowering and kangaroo paws are in bud. This walk will include these plants on the way to the far side of the Sydney Basin.
Starting at the far end of the café building take the first small path marked 'FAMILY MYRTACEAE' off the Main Path. This path will wind through many callistemons with many shades and styles of red bottlebrushes. Included are Callistemon citrinus 'Splendens' [Section 11] with red bottlebrushes, Callistemon pinifolius [Section 12] with lovely lime green bottlebrushes and Callistemon citrinus c.v.[Section 12] with deep pink-purple bottlebrushes. Opposite this shrub yet small shrubs of Melaleuca fulgens [Section 11] show off their apricot shaded bottlebrushes. There are Callistemon rigidus [Section 11, 12] with red bottlebrushes and Callistemon salignus [Section 11] with pink bottlebrushes. A prostrate form of Kunzea ambigua [Section 11] is quite dense with many white fluffy globular flowers. To view Leptospermum spectabile [Section 9] it is a short distance back at this road junction. The shrub is upright just clad with conspicuous deep red open flowers.
Continue past a garden of daisies to the Sydney Basin section starting at the narrow path on the far side of the gully where Dampiera purpurea [Section 191 f] displays its deep purple flowers atop upright stems of this vigorous suckering plant. Boronia pinnata [Section 191 f] is a dense shrub clad with star shaped pink four petalled flowers and many buds, is close by. Opposite, Zieria covenyi [Section 191 k] is a low dense shrub with a scattering of small white flowers. Hibbertia prostrata [Section 191k] has bright yellow flowers, seen creeping along the earth at the top of the stairs. Isopogon anemonifolius [Section 191 f] is a shrub of medium height with large yellow 'drumstick' flower heads. Epacris longiflora [Section 191f] has bright red flowers tubular flowers with white tips pendent from long wiry stems and is in numerous places along this path.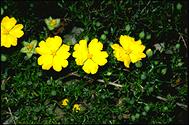 Hibbertia pedunculata - click for larger image
Sit a while with Dampiera purpurea [Section 191f] beside the seat and large fronds of tree ferns, Dicksonia antarctica in front with a chorus of the laughter of kookaburras. Then see Jacksonia scoparia [Section 191 f] a tall upright shrub decorated with sprays of yellow pea-shaped flowers. At the exit, Hibbertia pedunculata [Section f] is bright with yellow flowers over this dense ground-cover.
Turning left to the far side of the Sydney Basin, passing flannel flowers, Actinotushelianthi 'Federation Stars' [Section 191 e] displaying its large velvety daisy-like flowers on upright stems. Follow the road down opposite the Eucalyptus Lawn where the corner is colourful with Scaevola aemula [Section 191 h] profuse with its purple fan flowers on the prostrate plant. Pultenaea ferruginea [Section 191 h] is yellow with pea-shaped flowers covering the upright shrub. Boronia serrulata [Section 191 h] is there too, with lovely star-shaped rich pink flowers and Coopernookia barbata [Section 191h] of similar height is well clad with its shade of pink flowers. Leptospermum sp. [Section 191 h] is a taller shrub profuse with white, with a tint of pink open flowers.
Such a garden of flowers … Barbara Daly.
---
Updated 27 August, 2008 , webmaster, ANBG (anbg-info@anbg.gov.au)
---