---
---
In Flower this Week
A weekly news sheet prepared by a Gardens' volunteer.
Numbers in square brackets [] refer to garden bed Sections. Plants in flower are in bold type.
17 November 2006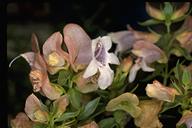 Prostanthera magnifica - click for larger image
Now is the time for the flowers of bottlebrushes and tea-trees to be outstanding throughout the Gardens. Their flowers are abundant such that only few will be mentioned. At the top of the stairs to the Visitors Information Centre Prostanthera magnifica [Section 221] is a small shrub clad with pink-mauve flowers. Beside is Eremophila racemosa [Section 221] of similar size with yellow buds maturing to pink tubular flowers. Opposite, Wedding Lily, Dietes robinsoniana [Section 212] has long sword-like leaves with large white lily-like flowers on upright stems. Tea-tree, Leptospermum 'Merinda' [Section 210] is a low shrub well covered with magenta coloured open petalled flowers leaning towards the path. Opposite, a bunch of Flannel Flowers, Actinotus helianthi [Section 172] with velvety foliage, displays its popular white daisy-like flowers.
Taking the path up the ramp, Goodenia macmillanii [Section 210] is a dwarf herb with upright stems of soft pink flowers. Above Gastrolobium involutum [Section 210] has sprays of small yellow pea-shaped flowers draped over the rock face. Large red bottle- brushes of Prostanthera 'Pendulous' [Section 210] escaped through other shrubs while Prostanthera 'Southern Cross' [Section 210] is an upright shrub clad with smaller pink bottlebrushes. Boronia 'Carousel' [Section 210] is laden with bright pink cup-shaped flowers while Leptospermum 'Aphrodite'[Section 210] bearing paler pink flowers.
Descending the stairs the large grass tree, Xanthorrhoea glauca subsp. angustifolia [Section 60] is startling with its elongated flower spike clad with tiny white flowers and surrounded by a dense green skirt of long fine green leaves.
Turning back towards the Information Centre, Grevillea johnsonii x wilsonii [Section 210] has long lateral branches with terminal sprays of bright reddish waxy flowers while further along the low shrub, Isopogon 'Little Drumstick' [Section 210] is clad with its yellow drumstick flowers. Below the medium sized Alyogyne 'West Coast Gem' [Section 210] with purple hibiscus flowers, Bulbine glauca [Section 210] has succulent leaves and upright stems bearing yellow star-like flowers.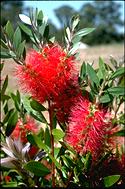 Callistemon citrinus 'Splendens' - click for larger image
Crossing the bridge over the large fronds of Dicksonia antarctica to the Ellis Rowan garden where opposite, large shrubs include Callistemon sp. aff. subulatus [Section 240] is a large floriferous shrub displaying its red flower spikes and beside, Callistemon 'Splendens' [Section 240] of similar size is prolific with its own shade of red flowers. At the corner of the building Leptospermum 'Lavender Queen' [Section 131] bears its soft pink flowers along the arching stems.
Other spectacular shrubs edging the Main Path include the large Leptospermum brevipes [Section 12] showered with white flowers best seen from the building. Melaleuca pentagona [Section 11] is small and erect showing its small rounded pink flowers. Before returning, continue along this path to view Kunzea ambigua x capitata [Section 9] just splendid with its perfumed pink fluffy flower balls scattered over this large many branched shrub. Returning and in the distance the yellow splash of colour is that of Jacksonia scoparia [Section 119] with pendulous sprays of pea-shaped flowers. At the corner, Callistemon 'Harkness' [Section 124] tall with arching branches of red flower spikes while at the opposite corner Melaleuca fulgens [Section 127] is rather small with its bottlebrush-like flowers a shade of apricot.
Such flowers, such colour…………………………………………Barbara Daly.
---
Updated 28 November, 2006 , webmaster, ANBG (anbg-info@anbg.gov.au)
---