---
---
In Flower this Week
A weekly news sheet prepared by a Gardens' volunteer.
Numbers in square brackets [] refer to garden bed Sections. Plants in flower are in bold type.
10 November 2006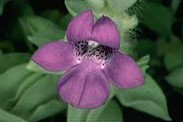 Eremophila warnesii - click for larger image
Throughout the Gardens callistemons continue to bear their red bottlebrush flowers and tea-trees are quite showy with their bright open flowers. Edging Banks Walk flowers are so colourful including Leptospermum 'Merinda' [Section 210] with deep pink flowers which lean towards the path. The flowers of the Western Mallee of S.A. and W.A. are also worth a visit so, starting at the base of the old nursery site the road is edged with Chrysocephalum apiculatum [Section 34] with small button-like yellow flowers in clusters amid either grey or green foliage.
On the other side of the road plants include Eremaea pauciflora var. calyptra [Section 100], a small open shrub with orange frilly flowers. Glischrocaryon behrii [Section 100] is an interesting tufted plant with few leaves and bearing heads of yellow flowers. Calytrix leschenaultii [Section 100] is a small shrub clad with brownish-red star-like flowers and Melaleuca radula [Section 100] has long woody branches topped with lovely mauve bottlebrush-like flowers amid its soft foliage.
Turn into this mallee area where an emu-bush, Eremophila warnesii [Section 100b] is a small shrub with lateral branches crowded with grey-green velvety leaves and tipped with a violet bugle-shaped flower. Following the board-walk in an anti-clockwise direction, Eremophila christophorii [Section 100a] is an open upright shrub bearing mauve bugle flowers. Billardiera lehmanniana [Section 100a] is a dense upright shrub clad with small white flowers. Grevillea pilosa var. pilosa [Section 100b] has long branches with holly-like leaves and hairy powdery pink flowers on this dwarf spreading plant. A Geraldton Wax, Chamelaucium 'Eric John' [Section 100a] is a dense shrub clad with tiny pink open flowers. Close by Dampiera dysantha [Section 100b] is a low sprawling plant with flowers, so blue.
Hibbertia stellaris [Section 100a] has a covering of orange flowers over the dwarf plant while, at the bend Verticordia chrysantha [Section 100c] is yet very small well clad with small feathery yellow flower heads. In front, not so colourful, Verticordia plumosa var.plumosa [Section 100c, 100a] has heads of pale pink flowers on the small upright plant and Rinzia fumana [Section 100c] has tiny pale pink flowers over this small plant.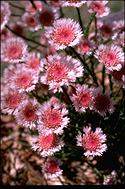 Actinodium cunninghamii - click for larger image
Passing the bend a mint bush, [Section 100a] is small shrub with many maroon coloured tube flowers. Kangaroo Paws can be seen in the garden centre which includes Anigozanthos flavidus [Section 100a] with tall bare stems tipped with red buds. Dryandra sessilis var. cygnorum [Section 100a] has small fluffy white flower heads while Diplolaena microcephala [Section 100a] is a fairly open shrub bearing many down-turned red flowers surrounded by their cream bracts. Labichea lanceolata var. lanceolata [Section 100c] is a medium upright shrub crowned with yellow flowers open flowers while the large nodding fluffy cream with a tint of pink flower heads of nearby Pimelea spectablis [Section 100a] can be seen. Actinodium cunninghamii [Section 100a] is an upright daisy-like plant with heads of pinkish-brown flowers surrounded by cream bracteoles. There is Lechenaultia biloba [Section 100a] with its attractive pacific blue flowers and Eremophila laanii [Section 100a] small with its pink tubular flowers and so many more.
Such a colourful section of mallee flowers … Barbara Daly.
---
Updated 28 November, 2006 , webmaster, ANBG (anbg-info@anbg.gov.au)
---