---
---
In Flower this Week
A weekly news sheet prepared by a Gardens' volunteer.
Numbers in square brackets [] refer to garden bed Sections. Plants in flower are in bold type.
20 October 2006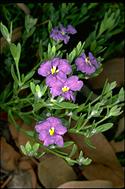 Dampiera linearis - click for larger image
This walk will select some late spring flowers in the Rock Garden starting at the base of the waterfall and walking in a clockwise direction, where on the left Gymea lilies, Doryanthes excelsa [Section 15C] with base of large sword-like leaves and tall bare spikes tipped with large clusters of red flowers. Opposite, the rock face is carpeted with Grevillea 'Poorinda Royal Mantle' [Section 15D] bearing many dark red toothbrush-like flowers. Another groundcover is Ranunculus collinus [Section 15B]. The flowers of this buttercup plant are shiny yellow. The corner here contains still small plants including the prostrate Goodenia blackiana [Section 15B] with yellow flowers and Dampiera linearis [Section 15B] a suckering plant with bright blue flowers. On the other side of this bed small plants include Lechenaultia biloba [Section 15B] also with blue flowers and Verticordia chrysanthella [Section 15B] yet very small mounded plant so yellow with feathery yellow flowers.
Bulbine glauca [Section 15D] has upright stems of yellow terminal flowers surrounded by succulent narrow leaves. In front Halgania cyanea [Section 15D] is a dwarf plant, also with blue flowers. Leucochrysum albicans subsp. alpinum [Section 15V] has greyish hairy leaves and lovely papery daisies coloured white with large yellow centre on upright stems. At the base and edging the stairs Homoranthus bornhardtiensis [Section 15B,15A], are flat topped spreading shrubs with aromatic yellow flowers in profusion.
Edging the top road a tea-tree, Leptospermum scoparium 'Horizontalis' [Section 15H] is well clad with white buds and open white flowers just developing. Hibbertia sericea [Section 15H] is a small open shrub bright with yellow flowers while Hibbertia empetrifolia [Section 15H] is a dense entanglement of vine clad with yellow open flowers. At the corner Waitzia acuminata [Section 15H] is a small annual clad with bright yellow ovoid flower heads. Now, see the beauty of Waratah, Telopea speciosissima 'Corroboree' [Section 15J] an upright, many branched shrub crowned with those glorious red flower heads.
Taking the small path down where Senna artemisioides [Section 15K] is clad with bright yellow flowers over the many branched shrub, Pimelea bracteata [Section 15K] has interesting bell-shaped greenish-yellow flowers which blend with the foliage of this shrub and Leptospermum multicaule [Section 15K] has small open petalled flowers along its spreading branches.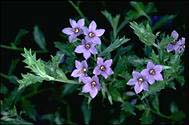 Halgania cyanea - click for larger image
Calytrix leschenaultii [Section 14] is a low spreading shrub bright with purple open petalled flowers. Nearby Chamelaucium ciliatum [Section N] is a low spreading shrub clad, in profusion with small white, ageing to pink flowers.
In the centre of this next garden, Telopea speciosissima Wirrimbirra White' [Section 15R] stands tall displaying its whitish flower heads. The dense vine, Hardenbergia 'Mini Haha' [Section 15S] displays its purple pea-flowers over the rocks while at the corner Ptilotus macrocephalus [Section 15S] shows off its bare stems with heads of globular green-cream soft woolly flower heads. Dampiera diversifolia [Section 15R] is a groundcover dense with deep blue flowers compared with Dampiera linearis [Section 15R] with a paler blue flower on upright stems.
Another colourful section to enjoy … Barbara Daly.
---
Updated 27 November, 2006 , webmaster, ANBG (anbg-info@anbg.gov.au)
---