---
---
In Flower this Week
A weekly news sheet prepared by a Gardens' volunteer.
Numbers in square brackets [] refer to garden bed Sections. Plants in flower are in bold type.
13 October 2006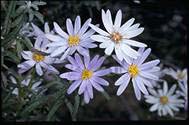 Olearia phlogopappa - click for larger image
Beautiful spring flowers are throughout the Gardens and this walk will venture past many. The Waratah seen at the entrance gate is Telopea 'Doug's Hybrid' now showing its bright red flowers. Edging Banks Walk Hibbertia empetrifolia [Section 210] is a blaze of small yellow flowers seen falling over the rock wall, broken by the rich purple pea flowers of Hardenbergia violacea [Section 210]. Above is Olearia phlogopappa [Section 210] which displays its bright pink daisy-like flowers and beyond Telopea 'Braidwood Brilliant' [Section 210] with prominent red flowers.
Walking across the Rainforest Gully close to the Café, Richea dracophylla [Section 66] a somewhat upright plant with orderly tapering leaves and with terminal white flower spikes. Edging the Rainforest Gully, attached to rocks are many orchids now developing cream flower spikes. Included are Thelychiton falcorostrus [Section 125] with small sprays of cream flowers and Thelychiton speciosus [Section 125] with larger leaves and larger sprays of cream flowers.
The opposite corner Grevillea 'Poorinda Royal Mantle' [Section 124] is a dense ground-cover with red toothbrush-like flowers. The cascade of cream flowers are those of Grevillea 'White Wings' [Section 124] while opposite Philotheca myoporoides [Section 126] with white petalled flowers, leans towards the road. At the next corner Chorizema cordatum [Section 127] is semi-prostrate and well clad with bright orange pea-shaped flowers. Over the road Calytrix tetragona [Section 10] is a large shrub well covered with white star flowers.
Continuing along this road Westringia longifolia [Section 119] has mauve flowers over the upright open shrub while close by Pandorea pandorana [Section 124] is a vigorous climber covering other shrubs with its tubular cream flowers. Across the road emu bush, Eremophila nivea [Section 302] is attractive with mauve flowers mixing with its grey foliage while beside Myoporum bateae [Section 302] is a tall open shrub with short lateral branches clad with hanging leaves and clusters of tiny mauve flowers. At the corner of the Rock Garden the Gymea Lily, Doryanthes excelsa [Section 15C] stands tall with large red flower clusters on top of the long stem the base surrounded by large strappy leaves. Crossing over to the Rainforest Gully, passing the Wollemi Pine, Wollemia nobilis [Section 110] tipped with bronze coloured cones in its green cage.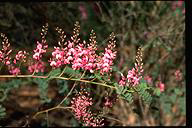 Indigofera australis - click for larger image
Following the return road to the Café, a group of Indigofera australis [Section 114] is bearing pink pea-shaped flowers and later a group of white flowering plants including Aristotelia australasica [Section 125] open shrubs clad with small bell-shaped flowers and Vesselowskya rubifolia [Section 125], a tall shrub interesting with pendulous tassels of slim short cream flowers. There too, is Libertia paniculata [Section 125] a small tufted plant with fine grass-like leaves and taller stems with white three-petalled flowers. There is the broad-leaved Pepperbush, Tasmannia purpurascens [Section 125], neat and rounded with dark green foliage brightened with clusters of white flowers and Thelychiton pulcherrimus. [Section 125] with pinkish-white orchid flowers.
A REMINDER THAT THE ORCHID DISPLAY IN THE GLASS HOUSE IS WORTH A VISIT.
Great gardens … gorgeous flowers … Barbara Daly.
---
Updated 27 November, 2006 , webmaster, ANBG (anbg-info@anbg.gov.au)
---