It is certainly springtime in the Gardens and so this walk is in a paradise up where energy and time is needed. On the way to this area of flowers coloured in shades of white and pink and yellow, view the tall shrub Hakea francisiana [Section 36] with terminal red flower spikes amid the long narrow foliage. Stroll then, beneath a canopy of she-oak, Casuarina sp. [Section 40] to the beginning of this certain area.
Crossing the road, the crowd of yellow pea-flowers of the suckering Goodia lotifolia [Section 45] are brilliant. Behind, near the upper path the smaller pea-flowers of the medium size shrubs of Pultenaea stipularis [Section 45] are not so brilliant. Edging the path upwards the shrubs are Zieria furfuracea [Section 49] with tiny white flowers among the grey-green foliage and Philotheca myoporoides subsp. myoporoides [Section 49] with white star-like flowers. At the path junction the bright yellow fluffy flower balls on a low spreading shrub surrounding a tree trunk is that of Leionema phylicifolium [Section 48]. The twining twisting ground-cover across the path is Kennedia retrorsa [Section46] bright with pink-purple pea flowers on upright stems amid the foliage. It meets Hardenbergia comptoniana [Section 46] twining about a shrub with bright blue-purple pea shaped flowers.
Edging this path Phebalium gracile [Section 46] is a dense shrub with fine foliage and tiny white flower clusters. Asterolasia hexapetala [Section 46] has open petalled white flowers over the more open shrub. Compare Boronia mollis 'Lorne Pride' [Section 46] covered well with pink star flowers over a low shrub with Boronia muelleri 'Sunset Serenade' [Section 46] taller shrubs also well clad with pink star flowers.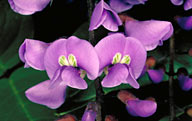 Hardenbergia comptoniana - click for larger image
At the corner of the narrow path, Phebalium rotundifolium is an upright shrub decorated with yellow fluffy flower balls. Beside is Boronia tetrandra [Section 46] a prostrate plant with yellow flowers. It is also seen edging this small path. Continuing upwards Zieria adenophora [Section 46] is a small interesting shrub with small white flowers over the almost black foliage. Boronia muelleri 'Tyalge Ruby' [Section 46] well covered with pink flowers, mix with other shrubs including Phebalium phylicifolium [Section 46] well clad with yellow fluffy flowers.
Hakea lissocarpha [Section 56] has a low sprawling habit where white lacy flowers with the fine short foliage crowd the terminal branches. At the end of this path is a seat almost surrounded by Grevillea corrugata [Section 56] which is prolific with white lacy flowers. The bird chorus throughout this area has added to the tranquillity of this wonderland.
Returning by the other small path plants include a hedge of Zieria fraseri [Section 46], so attractive seen here as a hedge with dusky pink flowers blending with the grey-green foliage. Zieria prostrata [Section 46] is mostly mounded spreading plants with dark green foliage and tiny pink flowers. Prominent is Phebalium coxii [Section 46] a tall shrub with fresh green foliage and large white flower clusters.
Returning, a visit to the Orchid Display in the hot-house would be beneficial, especially to view the large most colourful yellow and white Dendrobium thyrsiflorum from Indonesia, suspended over the pool.
A most enjoyable place … Barbara Daly.