This walk focuses on the early spring flowers in the Rock Garden where rocks act as a source of stored heat absorbed during the day and dissipated slowly at night. A reminder that the popular Acacia leprosa 'Scarlet Blaze' [Section 131] continues to be so colourful with its cinnamon coloured flower balls seen in the Ellis Rowan garden close to the café. Golden wattles are flowering throughout the gardens.
Start at the base of the waterfall, in the Rock Garden, in an anticlockwise direction, Guichenotia ledifolia [Section 4] is a neat rounded shrub covered in profusion with down-turned cup shaped pink-mauve flower sprays. Thryptomene denticulata [Section 15S] continues to bear tiny pink flowers along its low branches which arch over the nearby rocks. Almost opposite, Acacia acinacea [Section 15R] has long arching branches enveloped with yellow buds just exploding to small yellow globular flower balls. Philotheca 'J. Semmens' [Section 15R] is yet a small shrub well covered with pink buds and pink-white multipetalled flowers. Opposite and elsewhere, the False sarsaparila, Hardenbergia 'Mini Haha' [Section 15S] has trailing stems with purple pea flowers tumbling down the rocks. Isopogon formosus [Section 15P] is a tall shrub spectacular with large floppy pink flower heads. Almost opposite Epacris gunnii [Section 15M] is a small upright herb with branches clad with tiny white flowers. In the opposite corner Ricinocarpos bowmanii [Section 15R] has many pink centred white downturned flowers over the small shrub while opposite, Leucopogon fraseri [Section 15K] is a low spreading plant with pink foliage and small tubular pink flowers.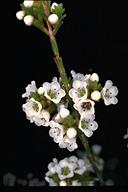 Micromyrtus ciliata - click for larger image
Up and along the top road where wattles cover the upper level, a corner is covered with a small suckering herb, Brachyscome formosa [Section 15H] bright with mauve daisies. Olearia astroloba [Section 15H] has purple daisies which brighten the dark foliage. Close by is Philotheca sp. [Section 15H] a fairly small shrub with white star shaped flowers in profusion. Hibbertia empetrifolia [Section 15H] is a dense entanglement of trailing stems showing the first of its many yellow flowers and many buds. Towards the stairs Grevillea lavandulacea [Section 15H] is a medium spreading shrub with bright crimson flowers mixed with the grey-green foliage.
At the top of the stairs a groundcover, Grevillea lanigera [Section 15H] is dense with pink flower clusters while opposite Homoranthus flavescens [Section 15A] is a flat topped spreading shrub with terminal yellow aromatic flowers. Phebalium stenophyllum [Section 15A] has flowers so yellow while behind Westringia glabra [Section 15A] is bright with bluish-mauve flowers. Micromyrtus ciliata [Section 15G] is worth finding for now this low spreading shrub is clad with a mix of tiny white flowers and burgundy coloured buds. Leucochrysum albicans subsp. alpinum [Section 15V] is a small tufted herb with papery yellow centred white flowers seen above the grey foliage. Ranunculus collinus [Section 15B] is a dense groundcover bright with its shiny waxy yellow buttercup flowers.
Many more flowers to enjoy …
Barbara Daly.