Our fair city and the Australian National Botanic Gardens are bathed with wattles so yellow. Grevilleas are blooming as are so many flowers and so this walk, following the Main Path, will select some of the these plants. Commence at the far end of the café building but don't miss Acacia leprosa 'Scarlet Blaze' [Section 131] with yellow-spotted dull red flower balls over this graceful arching small tree, seen either side of the Friends' Lounge door.
Continuing along this path, a very small shrub, Hypocalymma jessicae [Section 12] has upright stems clad with pink lacy flowers. Acacia dawsonii [Section 303] is a many branched shrub has yellow flower balls edging the branches. Philotheca 'J. Semmens' is [Section 30] still covered with pink buds but with a scattering of pale pink multi-petalled flowers. The Cootamundra wattle, Acacia baileyana [Section 30] here is prostrate and prolific with soft yellow flower balls. Grevillea lanigera form Bittangabee [Section 30] has pink flowers over the semi prostrate plant. Grevillea lavandulacea 'Tanunda' [Section 30] is so attractive with its crimson flowers mixing with its greyish foliage. At the corner the trailing False Sarsaparilla Hardenbergia violacea [Section 30] with violet coloured pea-shaped flowers is quite dense. It can be seen in many places, often covering nearby shrubs. Grevillea lanigera [Section 25] is a dense groundcover, flowering in profusion with pink spider-like flowers. Behind, edging the upper road, Grevillea dimorpha [Section 25] arranges its brilliant red flowers along its upright stems.
Grevilleas continue along this path and include Grevillea paniculata [Section 26], a large open shrub white with perfumed loosely arranged flowers; and Grevillea rosmarinifolia [Section 24], of medium size, is prolific with reddish spider flowers.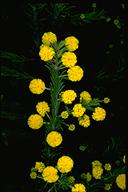 Acacia gordonii - click for larger image
Crossing the road the shrubs with bright yellow terminal flower heads are those of Phebalium squamulosum [Section 112]. Phebalium glandulosum is beside with similar flowers. Following the path through the Sydney Region Gully, flowers include Phebalium squamulosum ssp. lineare [Section 191 H] bearing cream flowers. Grevillea irrasa subsp. didymochiton [Section 191S], is an upright open shrub with red dangling flowers. Epacris reclinata [Section 191M] is a dwarf plant clad with white tipped pink tubular flowers, seen between the rocks. Opposite, Acacia gordonii [Section 191E] is a small dense shrub clad with yellow perfumed flower balls. Dillwynia ramosissima [Section 191L], crowded between shrubs exposes its small dark centred yellow pea-flowers.
Crossing the Eucalypt Lawn and through an acacia section which includes Acacia flexifolia [Section 18] a small erect shrub clad with small fluffy yellow flowers. The Rock Garden has many floral treasures which include Thryptomene denticulata [Section 15S] a prostrate shrub with arching branches pink with flowers. Guichenotia ledifolia [Section 4] is attractive with downturned pink cup-shaped flowers over the rounded shrub.
The cooling Rainforest leads to the ramp where a Mint Bush, Prostanthera phylicifolia [Section 210] is bright with its attractive mauve flowers. An Emu Bush, Eremophila maculata [Section 210] bears yellow tubular flowers over its low open shrub.
Warmer days, colourful flowers … Barbara Daly.
Guided Wattle Walks will be held daily next week. Ask at the Visitor Information Centre.