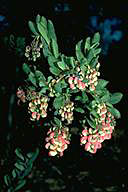 Grevillea iaspicula - click for larger image
Edging Banks' Walk colourful flowers include Darwinia macrostegia [Section 174] attractive with red tubular buds which will mature to bell shaped flowers, suspended from branches of this small open shrub. Woollsia pungens [Section 174] continues to bear small white flowers which surround the ends of the wandering branches and Epacris impressa [Section 174] of similar habit, bears deep pink tubular flowers along its branches. A vine, Hardenbergia violacea 'Mini-haha' [Section 174], well covered with violet coloured pea shaped flowers climbs over a shrub. Asterotrichion discolour [Section 66] arches its long branches—clad with white, delicately perfumed flowers mixed with the somewhat hairy foliage—over the path across the bridge. Taking the path to the Education Centre, Cryptandra sp. [Section 240] is a dainty small shrub showered with small clusters of white flowers. Opposite, Acacia covenyi [Section 240] is a small wattle tree massed with buds exploding into soft yellow flower balls. A hedge of Grevillea sp. [Section 240] dense with short fine foliage and bright with red spider-like flowers. On the lower path Wee Jasper Spider flower, Grevillea iaspicula [Section 240] has differing foliage with pendent flower clusters of delicate shades of green and pink. Opposite Grevillea diminuta [Section 239] crowds a corner with shrubs bright with pendent rust red flower clusters. Behind is Banksia ericifolia [Section 239] brilliant with gold flower spikes over the large shrub. Beside the entrance to the Crosbie Morrison Building Eucalyptus caesia [Section 239] stands gracefully with trunk clad with brown flaky bark, silvery arching branches and large fluffy pink flowers.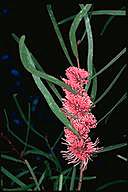 Hakea francisiana - click for larger image
Returning, the white daisy-like flowers on a small branching shrub is that of Olearia cydoniifolia [Section 240]. Continue uphill past the Queensland Silver wattle Acacia podalyriifolia [Section 119], a small tree with spreading branches so gold with fluffy flower balls amid the silver-grey foliage, then turn right (see map) to view certain hakeas. Hakea cristata [Section 24] is a medium shrub with prickly wavy margined leaves and small clusters of white lacy flowers. Across the road Hakea sericea [Section 21] is an upright ungainly shrub with bare trunk, many upper branches with short sharp fine leaves, many almond shaped fruits, and beautified with terminal pink lacy flowers. Taking this small path, find Hakea francisiana [Section 20]. It is of medium size with angular branches, long leaves and lovely long pink flower spikes. Hakea obtusa [Section 20] seen edging the Main Path, is a dense shrub of medium size with bright red globular flower heads seen mostly on the old wood concealed by the dense foliage.
Follow the Main Path to the Rock Garden where the Cauliflower hakea, Hakea corymbosa [Section 15P] is a well designed tight compact shrub with terminal clusters of short, sharply pointed leaves mixed with clusters of greenish yellow flowers. Below this prickly shrub, Grevillea maxwellii [Section 15P] is a prostrate plant with divided leaves and bright with red flowers. Beside, Isopogon cuneatus [Section 15P] is a large shrub, so colourful with an abundance of pinkish-mauve circular floppy terminal flower heads.Time to discover other beauties in the Rock Garden?
Late winter, warmer days … Barbara Daly.