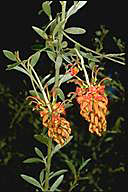 Grevillea diminuta - click for larger image
Along this walk many shades of wattles are bursting into flower and many grevilleas are in heavy bud as well as various other flowers. Along Banks' Walk in front of the huge cycad, Macrozamia moorei [Section 174] is a dense groundcover, Rhodanthe anthemoides [Section 174] prolific with white buds just opening into white daisy-like flowers and Thryptomene denticulata [Section 174] a small open shrub with arching branches pink with tiny flowers.
At each end of the Ellis Rowan Garden in front of the café building are dwarf banksias, Banksia 'Stumpy Gold' [Section 131] with foliage almost concealing its dark gold flower spikes and Banksia 'Honey Pots' [Section 131] with honey coloured flower spikes erect above the foliage. Between is Grevillea diminuta [Section 131] with rust red flower clusters dangling from the branches of this dense shrub. At the end of the building are banksias including Banksia spinulosa var. collina [Section 131] a spreading shrub of medium size with gold flower spikes.
Taking the road to the left are small plants which include Thryptomene 'Pink Lace' [Section 10] with its arching branches covered with pink flowers, seen below the large branches of Eucalyptus mannifera [Section 10]. At the next corner Baeckea crassifolia [Section 10] is a picturesque upright plant with pink flowers edging the small branches. Opposite, the tall wattle, Queensland Silver Wattle, Acacia podalyriifolia [Section 119] with silver grey foliage, is well covered with buds continuously exploding into soft yellow flower balls.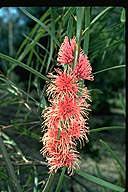 Hakea multilineata - click for larger image
Cross over the Brittle Gum lawn edged by Banksia ericifolia [Section 110] with vivid gold flower spikes to the road edging the Rainforest Gully. Epacris calvertiana [Section 17] is an upright open shrub with scattered branches bearing short white tubular flowers. Beside it is a Geraldton Wax, Chamelaucium 'Cascade Brook' [Section 17] a denser shrub bearing waxy shades of pink open flowers. Opposite, edging the Rainforest Gully, Celerywood, Polyscias elegans [Section 104], yet a small tree is attractive with lower leaves tinted purple while at the entrance a Lilly-pilly, Syzygium australe [Section 140] is a dense shrub with glossy dark foliage brightened with its many mauve-pink fruits. Opposite is a grove of Crowea 'Festival' shrubs [Section 123] bright with its pink star-like flowers.
Taking the next path up the few stairs to view many large ageing banksias including Banksia oblongifolia [Section 36], not so large but prolific with green-yellow flower spikes seen especially on old wood near its base. On the upper path is an interesting hakea, Hakea multilineata [Section 36]. It is quite tall with many upright branches. The leaves are long and narrow, the flower spikes, better seen with binoculars, are seen mostly on top. They are long and coloured bright pink. Returning past the former steps Cryptandra amara var. floribunda [Section 40] is a small spreading shrub with small clusters of white flowers along its extended branches.
To return, follow the downward garden to the small path where Grevillea lanigera form Bittangabee [Section 37] is a semi prostrate plant well clad with pink and cream flowers. Behind is a Grevillea baueri hybrid[Section 37], dense and upright, also with pink-red flowers.
Before leaving this section enjoy the many banksias. The path leads down to the Rock Garden, also is an area to explore.
Always another flower to enjoy … Barbara Daly.
Reminder — Australian National Herbarium and the
Australian National Botanic Gardens Nursery Open Days 19-20 August