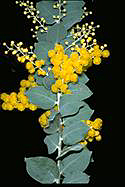 Acacia podalyriifolia - click for larger image
This is another walk of floral discovery where many banksias are still bearing flower spikes and grevilleas are beginning to mature. There are other flowers to enjoy too. From Banks' Walk Epacris reclinata [Section 174] is small with tubular pink flowers hanging along the sloping branches, while Woollsia pungens [Section 174] has small white flowers surrounding the ends of the longer branches. A Geraldton Wax, Chamelaucium 'Cascade Jewel' [Section 174] is now bearing open pink waxy flowers with many buds over the open upright plant.
Passing the café building opposite the Rainforest Gully, Banksia spinulosa var. collina [Section 182] has cylindrical upright gold flower spikes on top of a medium size shrub. Grevillea rosmarinifolia 'Rosy Posy' [Section 182] has cream to pink spider-like flowers in profusion over the small shrub, while Grevillea 'Poorinda Queen' [Section 124] is large and dense with apricot coloured spider flowers. Banksia spinulosa [Section 126] is quite dense with gold flower spikes ribbed with red styles. Nearby, Eucalyptus gregsoniana [Section 126] is yet a small tree with shapely lanceolate leaves and fluffy white flower balls clinging to the red branches. Below the extended mottled white branches of the lovely Brittle Gum, Eucalyptus mannifera [Section 10], Thryptomene 'Pink Lace' [Section 10] is low with arching branches pink with tiny flowers. Almost opposite, Correa 'Pink Mist' [Section 119] has many upright branches from which its flowers hang like bells. At the sign for the Aboriginal Trail Correa reflexa 'Maroonda Tricolor' [Section 119] shows off its tubular flowers coloured pink, yellow and green on the semi-prostrate shrub.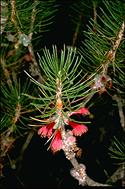 Calothamnus villosus - click for larger image
Beside is Westringia longifolia [Section 119] displaying its mauve coloured flowers over the dense shrub. Nearby the Queensland Silver Wattle, Acacia podalyriifolia [Section 119], spreads its branches covered with silver-grey felt like leaves is now showing the first of its strands of golden flower balls.
Take a path to the right, turning left at the zebra crossing to see the One-sided Bottlebrush, Calothamnus villosus [Section 6], an open shrub with red flowers composed of bundles of pollen bearing filaments among the short needle leaves… worth viewing! Back over the zebra crossing turn left where Banksia 'Giant Candles' [Section 30] with unusually short golden flower spikes stands tall, next to Banksia ericifolia [Section 30] with similar flower spikes and differing foliage. Banksia ericifolia var. macrantha [Section 30] has similar foliage and attractive greenish gold immature flower spikes with grey‑white styles.
Follow the curving path down to a corner of Micromyrtus sp. [Section 9] so showy with arching branches clad with dark red buds. Grevilleas along this road include Grevillea 'Pink Pixie' [Section 28], Grevillea baueri-lanigera intermediate [Section 28]: all worth viewing.
Returning, take time to view Banksia 'Giant Candles' [Section 143] close to the Banks Building. See the elongated golden flower spikes which the plant viewed earlier in section 30 should bear. At the entry to the Crosbie Morrison building almost opposite, admire Eucalyuptus caesia [Section 239] with trunk clad with brown flaky bark, silvery arching branches and large fluffy pink flowers… poor description of a lovely tree!
Sunny winter's day, many flowers… Barbara Daly.