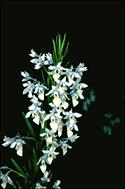 Hybanthus floribundus subsp. adpressus - click for larger image
This is a mid-winter walk to view the many flowers in the Rock Garden. Alas, some plants have succumbed to the frequent heavy frosts whilst many have survived.
Starting at the base of the stairs at the waterfall, sheltered by a dense correa, Banksia 'Honeypots' [Section 15D] is a dwarf dense shrub with honey coloured cylindrical flower spikes rising above its foliage. Snug between rocks,Grevillea lanigera [Section 15C] is quite bright with a covering of cherry pink buds and flowers.Hybanthus floribundus subsp. adpressus [Section 15D] is a small upright shrub with its many stems clad with blue tinted white flowers. Nearby Grevillea speciosa subsp. dimorpha [Section 15D] is a taller dense shrub with fine leaves and with red flowers edging the stems.
This garden bed contains Homoranthus darwinioides [Section 15F], a long flowering shrub with grey-blue foliage and unique cream flowers which redden on ageing. Around the corner Hypocalymma xanthopetalum [Section 15F], although attacked by frost continues to reveal its bright yellow feathery flowers clinging, in clusters to the live branches. In the centre of this garden an Emu Bush, Eremophila maculata var. brevifolia [Section 15F] continues to bear attractive magenta colored bugle flowers. Almost opposite a sheoak, Allocasuarina rigida subsp. rigida [Section 15A] is a dense upright shrub well covered with fine ochre coloured male flowers suspended from its branches. Flowing down this slope Grevillea lanigera [Section 15W] has pink and cream spider flowers on this dense groundcover. Further along this path, Micromyrtus ciliata [Section 15G] is a low shrub attractive with lateral branches well covered with tiny brick red buds which will mature to white flowers. At the bottom of the stairs Westringia glabra [Section 15A], a member of the mint family, has small pink bugle flowers over the low spreading shrub.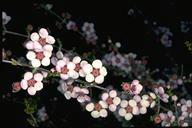 Baeckea crassifolia - click for larger image
Edging the top road, Olearia astroloba [Section 15H] is bright with mauve daisies on the dense many branched shrub. Close by Cryptandra sp. [Section 15H] is a low spreading shrub well clad with tiny white buds maturing to tiny tube flowers.
Following the path between the grass trees, Xanthorrhoea cunninghamii [Sections 15J, N], Leucopogon fraseri [Section 15K] is low and spreading, pink with foliage and small tube flowers. In another corner Isopogon cuneatus [Section 15P] is of medium size with large attractive frilly mauve flowers, the leaves have reddish tips. Down this path a ground cover, Grevillea maxwellii [Section 15P] is almost concealed but its deep red grape-like flowers can be seen. Grevillea humifusa [Section 15P], edging the path, is also a ground cover having red toothbrush like flowers. Some deep blue flowers of Dampiera salahae [Section 15S] can be seen trailing down some rocks while the medium dense shrub, Correa pulchella 'Pink Mist' [Section 15S] reveals a few pink pendent tube flowers. Baeckea crassifolia [Section 15S] is small and splendid with its many stems a blaze of pink flowers. At the lowest corner Thryptomene denticulata [Section 15S] is also splendid with its orderly pink flowers. In front of the waterfall, in the small garden, Banksia 'Birthday Candles' [Section 15V] is a dwarf plant with its upright cylindrical gold flower spikes, resembling candles, above the dense foliage.
Cold day, much to enjoy… Barbara Daly.