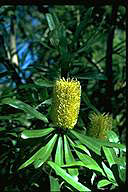 Banksia integrifolia subsp. compar - click for larger image
This chilly but sunny mid-winter walk includes a visit to the Display Glasshouse where certain orchids can be admired. Hakea 'Burrendong Beauty' [Section 221] which edges the path below the Visitor Information Centre, is splendid with a cover of cherry red flower balls crowded along the low spreading branches. Along Banks' Walk Banksia 'Birthday Candles' [Sections 172, 210] is alight with its upright golden flower spikes on the dwarf shrub. A mint bush, Prostanthera phylicifolia [Section 210] with mauve flowers brightens the low shrub.
In the Ellis Rowan Garden Correa 'Pink Blush' [Section 131] has pink tube flowers pendent from the upright branches and beside, Chef's Hat Correa, Correa baeuerlenii [Section 131] is a dense spreading shrub with green tube flowers and many calyces resembling chef's hats. Grevillea diminuta [Section 131] is quite spectacular with its many pendulous clusters of rust red flowers while close by Thryptomene 'Pink Lace' [Section 131] displays its tiny pink flowers along its terminal branches. At the corner another dwarf plant, Banksia 'Honeypots' [Section 131] has lovely rich honey coloured flower spikes. Many banksias are flowering this time of the year including Banksia spinulosa var. collina [Section 131] with differing foliage and yellow flower spikes. Opposite, Acacia alata [Section 240] is a dense shrub, unique with its flat branches with cream fluffy flower balls.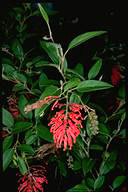 Grevillea rhyolitica subsp. rhyolitica - click for larger image
This next section is close to the Sydney Gully. On the way view Micromyrtus ciliata [Section 9] a semi-procumbent shrub with lateral branches crowded with deep coral buds which will mature to tiny white flowers. Banksia integrifolia subsp. compar [Section 27] is a medium size tree with numerous trunks, silver backed leaves and pale yellow flower spikes. Opposite there are numerous correas including Correa alba [Section 112] with deep pink almost tubeless, four petalled flowers. Banksia ericifolia var. ericifolia [Section 112] seen in the centre of this garden is a large shrub glowing with gold, almost red flower spikes.
Edging the Sydney Basin Region at the upper road crossing, Correa pulchella – variant 10 [Section 112] is a slim upright shrub displaying dusky red tube flowers. At its base Crowea exalata [Section 112] is a dense dwarf spreading plant bright with pink star-shaped flowers. Across the road Crowea saligna [Section 191H] is a dense upright shrub with deeper pink flowers. Beside is Grevillea rhyolitica subsp. rhyolitica [Section 191H] of similar size with pendulous clusters of rust red flowers.
At the next corner turn right to the Display Glasshouse. At the entry to this hot humid enclosure are vivid coloured orchids, Brassocattleya 'Haw Yuen Gold' x 'Chyong Guu Chaffinch' with large vivid yellow flowers, and Brassocattleya 'Chia Lin' x 'Sally Taylor' with large vivid red flowers . Close by is Cymbidium sp. with a spray of soft pink flowers and towards the far end, Dendrobiumsp. with small flowers coloured white with yellow throat on long dangling branches. These orchids are confiscated exotic plants seized by the Australian Customs and given to the Australian National Botanic Gardens for research purposes.
Another enjoyable walk in the Gardens…
Barbara Daly.