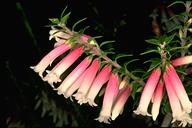 Epacris reclinata - click for larger image
The picturesque Hakea 'Burrendong Beauty' [Section 221] edges the path below the Visitor Information Centre. It is a low sprawling plant with cherry red flower balls crowded along the branch terminals. Along this path is a She-oak, Allocasuarina littoralis [Section 172] a slender arching tree with branches clad with needle-like leaves, many dark ovoid cones and few dark red female flowers. Towards the bus stop Allocasuarina diminuta [Section 172] is a handsome small tree clad with rust coloured needle-like male flowers. Banksia ericifolia 'Red Clusters' [Section 174] is a medium spreading shrub bearing its dull red flower spikes. Thryptomene saxicola [Section 74] has low arching branches well covered with tiny pink flowers. At the end of the section Crowea 'Festival' [Section 174] is forever radiant with its pink star flowers. It is worthwhile returning along Banks Walk where Darwinia macrostegia [Section 174] has many deep red slim buds pendent from the open branches. Banksia 'Birthday Candles' [Section 172, 174, 210] could not be missed for this dwarf spreading shrub displays many golden cylindrical upright flower spikes above its green canopy. Behind the seat Woollsia pungens [Section 174] has white tubular flowers crowded about the long branches while, belonging to the same family, Epacris reclinata [Section 174] is a smaller plant crowded with similar soft pink flowers. Asterotrichion discolor [Section 66] arches its long branches, clad with soft foliage and clusters of small creamy delicately perfumed flowers, above the bridge.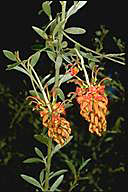 Grevillea diminuta - click for larger image
Edging the café building, the Ellis Rohan Garden contains Grevillea diminuta [Section 131] a neat shrub clad with many pendulous clusters of rust red flowers. Other plants include Epacris 'Nectar Pink' [Section 131] bearing pink, white-mouthed tubular flowers along its meandering stems. Banksia 'Honeypots' [Section 131] has flower spikes coloured gold with red styles on the open dwarf shrub. Opposite, a grouping of Crowea 'Cooper's Hybrid' [Section 240] is dense and bright with pink star flowers. Acacia alata [Section 240] close to a tree trunk, is dense with cream flower balls attached to its unusual zig-zag branches. 'Tis worth the walk down to the back door of the Crosbie Morrison building to admire the lovely Eucalyptus caesia [Section 143]. This striking tree grows tall against the building, its brown peeling trunk leads to white pendulous branches which contain many white buds and some pink fluffy flowers.
Uphill, past the group of banksias including Banksia spinulosa var. spinulosa [Section 131] a large shrub with many golden flower spikes, Thryptomene 'Pink Lace' [Section 10] is a small shrub with its arching branches attractive with pink flowers. Opposite, Correa 'Pink Mist' [Section 119] also has pink flowers, tubular shaped, pendent from the upright branches. There, too, is Correa reflexa 'Maroondah Tricolor' [Section 119] a small spreading shrub with tube shaped flowers coloured red, yellow and pale green.
Around the corner, Eucalyptus gregsoniana [Section 126] has cream fluffy flowers along its small branches and Grevillea 'Poorinda Queen' [Section 124] displays its apricot coloured spiker flowers on the crowded dense shrub.
Short walk, much to admire …
Barbara Daly.